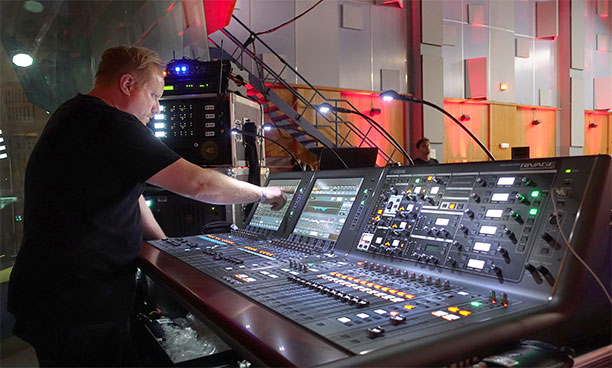 Only a day after taking delivery of a Yamaha Rivage PM10 mixing system, Subfrantic Production Services put it to the test in Studio 1 at London's Abbey Road studios on a unique orchestral concert.
The occasion was the final of Sonos ReScored, a competition that gave emerging directors the opportunity to have a short film scored by Oscar-winning composer Steven Price. Winner Luke Flanagan's film Mind the Gap was screened in front of a 300-strong invited audience, with the score played live by a 54-piece orchestra.
With both Abbey Road and Project Audio, the event's production company, renowned for their pursuit of sonic excellence, sound for the event had to be exceptional: 'We needed to showcase the best that the live industry could offer. That meant Rivage PM10 was the ideal choice,' says Subfrantic MD, Steve Davies.
Although there are similarities in the way live and studio sound engineers work, there are also significant differences – an immediate challenge for Davies was to strike a balance between them: 'As an example, close miking the strings would have worked best for us but wouldn't have given the Abbey Road team the sound they wanted. Likewise, tried and tested orchestral mic placements for recording would have left me with a feedback problem. But we reached an ideal compromise,' he says.
In addition the audio – which included playback for effects, atmospherics and the film's dialogue – had to be synced and routed to Studio 1's house console, which was used as a monitor desk for the musicians, with the time code being triggered and monitored in the performance space.
'Rivage PM10 was very well suited to the job, helping me to easily achieve the results I was after,' Davies reports. 'The Rupert Neve Designs Silk processing and the system running at 96kz meant the strings sounded smooth and gorgeous, while the percussion and basses sound both punchy and warm. The four EQ types proved very useful for different applications, while I was able to sidechain the dialogue into a compressor over everything else, submixed through a stereo group. This meant the speech on the film was clear and precise, sitting in the mix very nicely without having to be excessively loud.
'The time alignment option on the output busses also meant everything came out of the PA when it should, which can be an issue for parallel compression or a complex bus structure if a console doesn't have that feature,' he adds.
The high-profile event had five sound engineers and numerous technicians making it happen, but everything went smoothly: 'There was a lot of pressure to get it right, a lot of critical people to impress and it was my first time using Rivage PM10 in anger,' Davies says. 'I enjoy mixing orchestras, but doing it in front of the composer and the Abbey Road team who know the piece backwards means you need to get up to speed quickly. But it was a thoroughly enjoyable experience from start to finish.
'Rivage PM10 is so simple to use to that you can get great results almost effortlessly. It all went flawlessly.'
See also:
More: www.yamahaproaudio.com