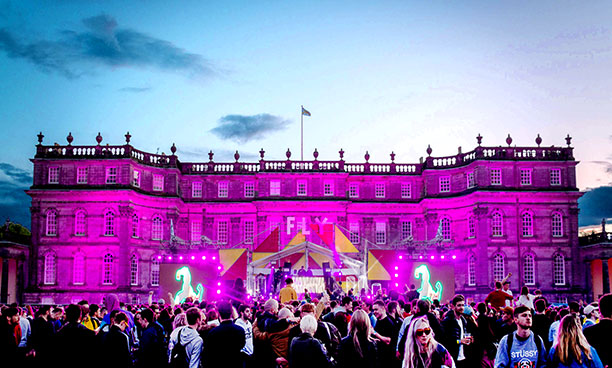 Having successfully Edinburgh's first open-air dance festival for the Fly Club in the city centre's Princes Street Gardens, alongside sister company Creation Live, Martin Audio partner VME moved to the 6,500-acre Hopetoun House Estate the outskirts of the Scottish capital for the second Fly Open Air Festival.
Unlike the fixed Princes Street bandstand, a festival infrastructure needed to be created in the grounds of the 17th century mansion and sound levels observed – a challenge that Martin Audio's MLA loudspeaker system was equal to. 'The scaffolding structure didn't help us – we couldn't get the height we wanted, which created a number of physical challenges,' admits VME Head of Sound, Mark Cleator. 'This required some late changes to the loudspeaker array.'
But the company is used to problem solving and the reduction to two hangs of four MLA boxes per side, flown off the scaff and bolstered by an MLD Downfill on the stage lip to provide front fill coverage, was without compromise.
VME's expertise was in creating a broadside cardioid ground array of nine MLX subs, seven forward facing and two reverse, to optimise the levels without threatening thresholds. This enabled VME to crank up the levels for artists such as Artwork, Bicep, Midland, Denis Sulta, Hunee, and Fly resident La La.
'As a result, the rejection was really good,' reports Cleator, who system teched the event while VME's Oliver Fallon mixed the sound. 'Without that rear rejection, the turntables would have bounced around on a stage that needed to be underpropped.'
Concerns about shaking the windows of the century mansion were allayed by the clever way in which the sound was tapered off in the Martin Audio Display software towards the perimeter, without the need to use the Hard Avoid function. 'We delivered sound at an SPL of 95dB(A) to the concession areas back to the road but were able to maintain 100dB(A) in the main arena,' Cleator says. Meanwhile, his offsite readings showed 57dB(A) at the rear point of the properties estate, while it was 70dB at the front which faces the bridges (the majority of this low end).
Tom Whittle who worked with promoter Tom Ketley to deliver the event from a production and logistical point of view said, 'Once again I was impressed by Martin Audio's MLA product; it delivered a good coverage while giving the central audience a very high level for an outdoor event. Headliners Bicep passed comment that they thought it was among the loudest and highest quality systems they had played on.'
MLA had the dual purpose of satisfying both the 4,000 dance aficionados attending the sell-out event, the local environment requirements, and of course the landlords, Hopetoun House. The promoter was sufficiently so impressed to rebook Creation Live and VME for their next event in autumn – back at the Princes Street Gardens Bandstand.