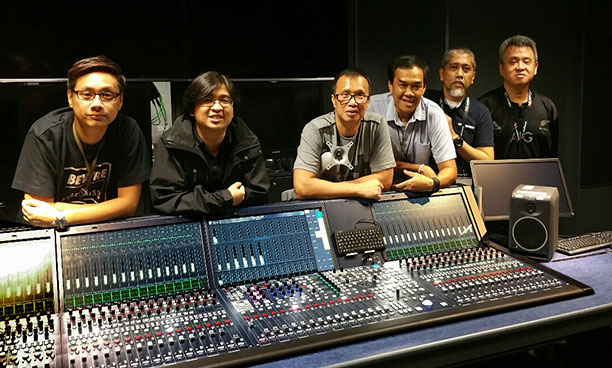 Singapore's MediaCorp has relocated to a major new production centre, where its technical operation is served by a completely revised hardware and infrastructure, including audio mixing, routing and control systems from Lawo.
The MediaCorp Campus is now the company's main production facility, housing TV and radio studios, and their control rooms. There are TV Production Studios, three TV News Studios and a Radio MCR served by five Lawo mc²56 mixing consoles and an mc²36 console, one Nova73 HD router, two Nova73 Compact routers, a large VSM Control System and other hardware. Additionally, Lawo's VSM (Virtual Studio Manager) provides the overall control layer across the new facility.
Pairing the Lawo systems with VSM bring Distributed Studio Networking (DSN) and easy handling of workflows to the studios. Where many central resources are shared – telephone hybrids, de-embedders, RX lines – this allows each studio access in addition to its own local resources.
The MediaCorp news area uses this approach but with some enhancements – the news editing area comprises four FlashCam positions covering the four main languages spoken in Singapore (Tamil, Malay, Chinese and English), and is equipped with Lawo A__mic8 audio-to-IP units that support up to eight microphones and four return lines. These positions can be freely assigned to any of the studios or SCRs. The news studio required the greatest technical consideration from Lawo, as its workflow had to be tailored to the customer's desires for flexible and speedy action.
The TV production complex comprises two studios – one large and one medium-sized –equipped with Lawo mc²56 audio consoles. The large studio houses an mc²56 with 64 faders, 16 line in/outs and eight AES in/outs, eight GPIOs as well as four Compact IO units. The medium-sized studio houses an mc²56 with 48 faders, 16 line in/outs, eight GPIOs and three Compact I/O units. Each Compact I/O provides 32 Mic/line in, 32 Line outputs, eight AES in/outputs, and eight GPIO. Both mc²56 consoles are accompanied by a Compact Core with 270 DSP channels and three Ravenna 4 port cards.
Audio from the mc²56 consoles is routed to a central Nova73 HD located in the studio equipment room as the central router for I/Os across all of the studios, as well as providing control of signal distribution. It is equipped with a redundant control system, 128 AES in/outs, and 16 Madi and 16 Ravenna ports. Connection to the intercom system, HDD recorders and auxiliary equipment is provided via the Nova73 Compact in the medium sized studio. For the large studio, the Nova73 HD located in the Studio Equipment Room is in charge, using three Madi ports. In addition, a Lawo V__pro 8 is used for embedding/de-embedding audio from HD/SDI signals, and is addressed from the router. Four Madi links connect the Toggle Studio to the Nova73 HD core – Toggle is the MediaCorp Apps service that streams additional content and accompanying broadcasts such as VOD.
A further aspect of the new campus encompasses MediaCorp's TV News Studios, with three dedicated facilities connected to the Nova73 HD router (using a redundant dual-star architecture) in the central studio equipment room.
Studio 1 is served by a 48-fader mc²56 console with 16 line outputs, eight AES in/outs and eight GPIOs, with Dallis and Nova73 compact I/O, and four A_mic 8 that use Ravenna interconnects for audio sharing. Studio 2's mixing console is a 32-fader mc256 with16 line outputs, eight AES in/outs and eight GPIOs, with a Dallis (Digital Audio Line Level Interface System) interface, Nova73 compact I/O. In Studio 3 is a 32-fader mc²56 console with 16 line outputs, eight AES in/outs and eight GPIOs, with two Dallis units, Nova73 compact I/O. For the FlashCam Studio, there is a 16-fader mc²36 console with 32 mic/lines, 32 line outputs, eight AES in/outs, eight GPIOs, and headphone monitoring.
All of the Lawo audio equipment and intercom systems in the news TV studios is connected via Madi, except for the FlashCam Studio, which uses Ravenna.
While all audio signals within the new facility are controlled using Lawo's VSM control system, the Lawo consoles can also be managed remotely using Viz Mosart broadcast automation. Each system has its own dedicated conference resources (hybrids, Skype codecs) but, for greater flexibility and efficiency, there is a pool of shared resources which are physically connected to the central router and can easily and quickly be assigned to each of the consoles via the VSM.
Further, the four FlashCam positions in the news offices can be assigned flexibly and easily to each of the four mixing consoles.
The MCR is equipped with two Nova73 compact audio routers, six Nova17 breakout boxes with redundant master cards with Madi connections, where one master card is connected to Nova73-1 and the redundant master card is connected to Nova73-2. Redundancy is fully automated, and will operate when silence is detected in any part of the station broadcast chain. In addition, a Nova17 router is used as the TX router – all studio outputs are routed from Nova73-1 and from Nova73-2 via AES to this Nova17 TX. Depending on the active router, the corresponding studio outputs are routed to the transmission line. If silence is detected on a studio output, VSM triggers switching to the redundant card if there is a valid audio signal.
Working on a TCP/IP backbone, VSM provides the overall control system with access to all relevant equipment and parameters. Using different protocols (including MONPL to control the Nova HD), VSM has direct access to all crosspoints and parameters. The sophisticated redundancy concept that is part of the Nova routers is also used for the VSM, which runs on two redundant servers with Mother-Mother configuration. For intuitive operation, four LBP 17 and one LBP 50e pushbutton panels are employed for the VSM system.
More: www.lawo.com