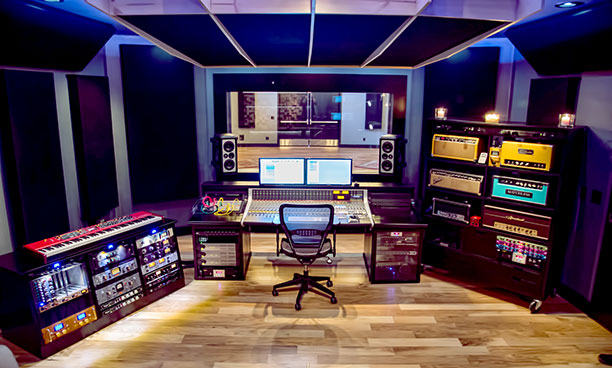 Recently opened following a ground-up build, Haxton Road Studios looks to be a 'modern version' of a traditional recording studio. At it's operational heart id a Solid State Logic AWS 948 hybrid analogue console – chosen for its SuperAnalogue audio architecture and ability to take charge of a Pro Tools HDX system.
'We do a wide range of projects that includes content for marketing projects, live video and live music performances, as well as the core music recording activities. So the biggest word for us was 'flexibility' – and the AWS 948 is a very flexible console,' says owner Neil Greenhaw.
Bentonville might not be the first city on the list of think of world music capitals, but it is enjoying a major growth spurt in economy, population and culture. Greenhaw has ridden that expansion for more than five years: 'It's a growing community,' he says. 'We have the headquarters of Walmart and Tyson Foods nearby, a big tech start-up in progress, and there are four or five important cities within a twenty minute drive that make up the Northwest Arkansas region – one of the fastest growing economies in the country.
'We've got a healthy and growing live music scene, with a good number of live venues, including a busy amphitheatre – the Arkansas Music Pavilion. We also have a world-class art museum called Crystal Bridges, which has really helped change the culture of Arkansas in music and the arts. It's a fantastic time to be living here.'
Greenhaw spent his formative professional years in Nashville, earning his way both in production and as a session guitarist: 'When I moved back to Arkansas I realised there was a need for professional production in the Central US that could service its growing economy and music scene. That's where the idea for the studio began.'
He began with a small project studio space, though one that still valued high-end tools and high-end production. 'I was booked solid for five years and decided that it was time to take things to the next level. That's when we built our new commercial facility,' he recalls.
The new studios were designed by Greenhaw and Taylor Boswell CEO, Will Boswell, and is set on the first floor of the new Haxton District Phase 1 development in Bentonville. A mezzanine level overlooks the studio's live room and is used as an artists' Green Room, while the top floor is leased to the Bentonville Film Festival.
'Everything was custom designed and built with the best components,' Greenhaw says. 'We have a well-stocked guitar vault – acoustics and electrics – and a huge assortment of amps and cabinets. We have a big main live room with enough space to host an orchestra or choir, and our control room is really spacious too, with Barefoot MM-26 monitoring and the SSL AWS 948 console. We also have several iso rooms and vocal booths, and there's a large lobby area with 20-ft ceilings, which is wired up so it can be a tracking space when needed.'
The upstairs greenroom can also be a fully integrated tracking space if required, but can also be used as a playback space, or simply a relaxation area with a good view out over the main live room.
If Haxton Road Studios is a modern version of a traditional recording studio, its bread and butter is not always so traditional – hence the AWS 948, supplied by Vintage King.
'I'm a huge fan of the SuperAnalogue signal path, the amazing preamps, analogue EQ on every channel, the Master Bus Compressor, Greenhaw says. 'To have all of that and have the Pro Tools control – it was a no-brainer for us. It has basically allowed us to sell three or four pieces of gear that we were using before. It's cleaned up our signal flow and added SSL quality. It has become the focus – the command centre – of our studio.'
The facility officially opened in April but, by then, it was already busy tracking: 'We have had an overwhelming reaction to the console,' Greenhaw reports. 'Everyone that has been in so far has loved it. Engineers love the ability to sit down, get their hands on it, and get going straight away, while the musicians – just being able to hear their instruments through this console has been a major win for the studio. To have everything running through SSL pres and EQs, and then being able to throw on the Bus Compressor and let the artists hear something close to what it might be in the end is huge.
'We've created a five-star destination,' says Greenhaw. 'It's super clean, modern and comfortable, with top-notch amenities and staff. We're literally a block and a half away from award-winning hotels, restaurants, and coffee shops. We've already had artists from Nashville, LA and Chicago recording here. There's definitely something special happening in Bentonville'