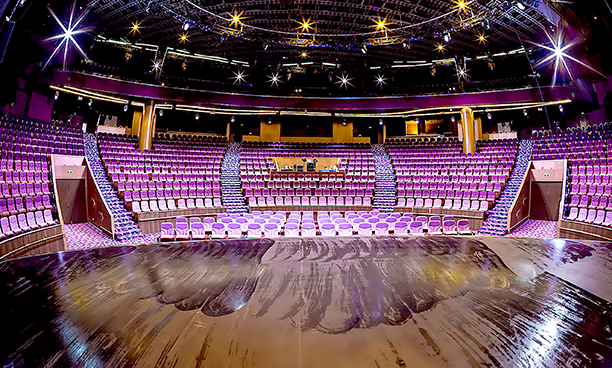 Moscow's Vegas City Hall's auditorium spans three levels, able to provide alternative configurations capable of hosting events ranging from circus acts and children's shows to chamber recitals and acoustic concerts by Russian and visiting international artists. In addition, it is used for conferences, presentations and workshops. This flexibility is reflected in is audio system, which can be reconfigured in less than half an hour.
The audio installation was designed and provided by Theatre Techniques and Technologies (TTT Group, Moscow) and Sonoruss – a certified provider of L-Acoustics systems in Russia.
The 1,472-seat auditorium is primarily used for rock, pop and jazz concerts and children's events. For circus events, the seating immediately in front of the stage is removed to provide a larger performance area, reducing the seating capacity to 1,354. Large 4K screens are located around the hall, and help to create the effect of augmented reality. The Crocus Group, the venue's owner, required an audio system to suit.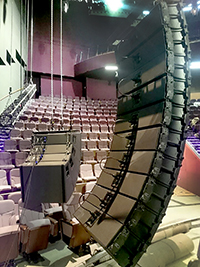 'We received the architectural plan and requirements for the sound system – sound pressure levels, coverage and frequency response,' says the project's Chief Engineer, Ruslan Piletski. 'Particular attention was paid to the system's intelligibility and architectural restrictions, so that we could provide excellent results. After analysing the results produced by L-Acoustics' Soundvision programme, the customer decided to go with an L-Acoustics K2 system, as it was the most suitable solution to the technical issues.'
The audio design is the work of Alexander Ananiev, acoustic engineer for Sonoruss, and uses 20 K2 boxes (ten per side hung either side of the stage) eight SB28 subwoofers, eight ARCS II for out fill and eight 8XTi for front fill, with a further ten 8XTi for under balcony fills and 12 8XTi for the balcony itself, plus eight ARCS Wide (four for the side scene area and four for the side forestage) with six 115XT HiQ for stage monitoring. Amplification is via L-Acoustics LA8 and LA4X.
'The most difficult part of the project was having two configurations for the same place; the concert hall and the circus arena,' Ananiev explains. 'One universal solution wouldn't be ideal, so we decided to use a reconfigurable design that could be changed easily and quickly, depending on what the hall is being used for at the time.'
For concert events, the SB28s are placed centrally between the LR K2 hangs to provide maximum low-frequency. For circus performances, the SB28s are sited behind the K2 clusters, to meet the audio requirements and free up space in the arena for the trapese artists.
'Thanks to the simple installation and the preset configurations it is possible for two people to move the eight SB28s quickly and easily,' says Igor Novikov, Sonoruss Technical Director for the installation. 'This means that reconfiguration only takes around 20-to-30 minutes.'
'After the installation of the equipment, the system was set up and calibrated by an L-Acoustics sound engineer,' Novikov adds. 'We made all the necessary measurements and the analysis confirmed the accuracy of the system as predicted in Soundvision. The results more than satisfied all concerned.'
Vegas City Hall has been in high demand since it opened in 2016, hosting more than 60 concerts, circus shows and business conferences. 'Our technical support has had great feedback after every event,' says Piletski. 'The hall is impressing everyone with its level of comfort and its sound quality. Audiences love it.'