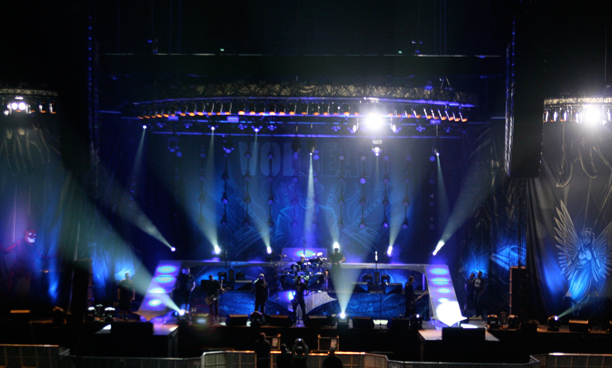 With their recipe of multiple guitars, big vocal harmonies and driving harmonica, Danish metal band has just completed a very successful tour of arenas across northern Europe.
'The band sound is a lot more dirty live than in the studio,' says front-of-house engineer, Mads Mikkelsen, who has used a full-scale d&b audiotechnik J-Series loudspeaker system for all dates. 'I double channel each of the two guitars, slightly delaying each to opposite sides of the PA to get that big guitar and bass sound, and the J-Series delivers exactly what I am aiming for.'
Supplied for the tour by DPA Soundco in Denmark, the loudspeaker system had to adapt itself to a wide range of spaces and acoustics – and has left Mikkelson happy. 'I am a very big fan of loud, clear and massive rock music and the J system puts a smile on my face every night,' he says. 'I've done a lot of festivals with Volbeat and when a J system is used for the festival it doesn't matter who sets it up and tunes it, in any country, it always sounds great. I don't get that with other systems. The J-Series never varies.'
The band's stage set also presented problems, as its stage wings required an unconventional rigging. 'To block the least amount of sightlines we had to fly the J-Subs behind the main system,' says system tech Ulrik Rasmussen.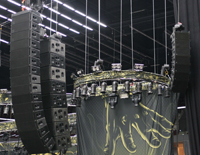 'So long as we could find a hanging point at least a metre upstage from the main system, this worked perfectly. We designed the system around this flown sub configuration to achieve really good low-end throw; the benefit to us, especially with heavy metal where low frequencies are so important, was that the alignment between subs and the main system is consistent throughout the venue, even the balconies.' Mikkelsen agrees, 'For me the benefit is this: the band are very loud on stage, as much as 123dB peak at the centre vocal, so setting time between the different elements of the loudspeaker system is very important to keep the image clear and well defined. With the subs immediately behind the main system they are effectively already in the same time plane, so when I delay the system to the guitars onstage the coherence of the flown system is perfect. Walk the room and you get the same sound everywhere.'
Berlin's Treptower Arena brought its own set of issues: 'This is a notoriously bad venue for sound; it has a clearance of only 5m yet at 80m by 80m it holds almost 9,000 people,' says Rasmussen. 'We felt quite doomed when we arrived. The solution that day became stacked Subs and the main system of eight J8 and J12 with a delay of six J8 flown each side. It turned out quite OK. Of course, with this clearance there was a lack of throw in the lo-mids but with that in mind it was a pretty good job. German and US management were really amazed, and they claimed it was the best sounding concert at that venue ever.'
'We tried quite a number of different rigs throughout the tour,' Mikkelsen summarises. 'Always Ulrik came up with a solid solution; the guys from DPA Soundco worked really hard to always give me what I needed. Even our hometown gig at the Forum in Copenhagen was tight and clear and this is not a nice acoustic for an engineer. Good guys, great system, fantastic band.'
More: www.dpasoundco.dk
More: www.dbaudio.com