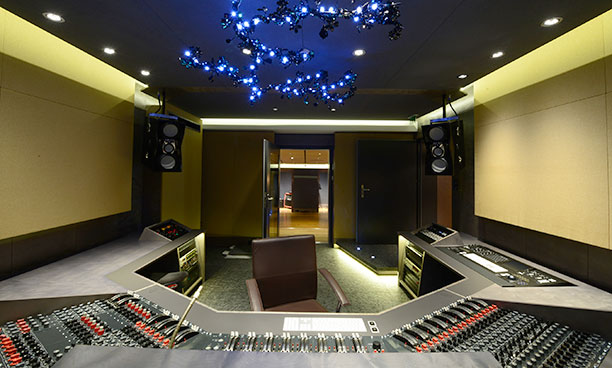 Leading recording Austrian facility Prime Studios has opened a fourth live area and third control room that is centred on an EMI TG12345 MkIV console that was built for Abbey Road Studios. One of only two similar consoles in the world, its twin is owned by producer Mike Hedges.
Prime Studios opened in 2008, Prime Studios is used by producers and engineers including Chuck Ainlay, George Massenburg, Christian Seitz and Alfons Weindorf. It is located in Mils near Innsbruck, and offers recording mixing and mastering, as well as postproduction facilities for film cutting, scoring, colour grading, Dolby and DTS encoding, and DVD/Blu-ray authoring. It also provides online mixing and mastering.
Along with the EMI TG12345 MkIV console, Control Room C is equipped with Pro Tools HDX 3/Pro Tools 10 and Merging Technologies MassCore/Pyramix 8 systems, and features a custom 5.1 surround reference sound system from Surrountec. Outboard includes two Merging Technologies Horus AD8P/DA8P, TC Electronic System 6000 MkII, and GML EQ and compression. All the cabling and connectors for the new installation is by Van Damme – specified and ordered from VDC Trading via YouSpec, now an integral part of the VDC website.
'The YouSpec online service from VDC is more than handy to easily choose the cable type needed,' says Prime Studios' Gerhard Buchbauer. 'We have chosen the Blue Series for Control C. It is more than great to have the ability to choose pin wiring and to even completely customise the wiring for the cables online.'
The studio's cabling included 24 pairs of 7m Blue EDAC90 cables male to male, 48 pairs of 1m Blue EDAC90 cables male to female and 40m of Blue series with various Neutrik connectors. The completed order was then sent to Prime Studios by international courier.
YouSpec is a relatively new and unique application on the VDC website, and is proving itself to be a game-changer for clients. It allows visitors to design, specify, price and order bespoke cable solutions – from simple audio leads to complex stage-box to tails and multicore loom configurations.
'Using YouSpec, our customers can specify the Van Damme cable, the colour, the exact length, the connectors, the boots, the labelling and so on required and VDC will manufacture their design and ship it directly to them.' says VDC CEO, Niall Holden. 'As we have already seen this is especially invaluable to clients who are overseas and in different time zones.'
Van Damme video and data products will also soon be made available via YouSpec.
See also:
VDC unveils YouSpec custom cable service