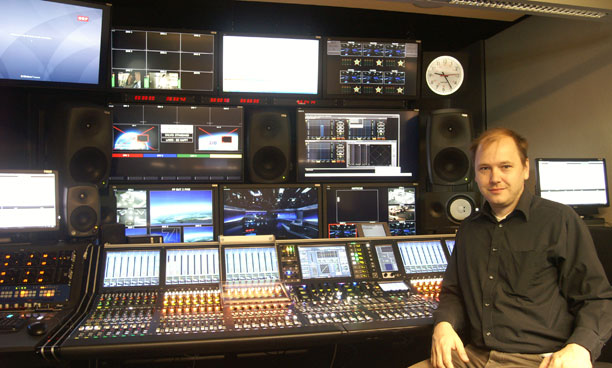 Broadcasting news between 8.30am and midnight 24-7, the Regieplatz 7 (RP7) TV news control room at ORF is busy for more hours each day than any other control room operated by the Austrian public broadcaster. Unsurprisingly, after 12 years' continuous operation, RP7's equipment had reached the end of its working life.
The refurbishment that was commissioned in July 2012 including switching from SD to HD production. The upgrade included two Lawo mc²66 digital broadcast mixing consoles.
The main console is fitted with 56 faders (24-8-24) and the second with 24 faders (8-8-8). Each has 240 DSP channels and one Plug-in Server. A Lawo Nova73 HD router supports the central matrix with DSP as the mixing console core – this offers 51 Madi ports and has a routing capacity of 8,000 x 8,000 crosspoints. As this is a news control room, both PSUs and the router boards are redundantly configured. The stageboxes are fitted with redundant Madi boards and cabling. Also redundantly designed are the five Netlink-Madi crosslinks between the Nova73 HD and the consoles.
'Both consoles are networked via a central matrix so that it is possible to switch from one console to the other within the control room. The console cores are identical, and integrate 16 Madi ports each,' explains Reinhard Tomek, who was responsible for project management of the refurbishment.
RP7's smaller console takes care of programme pre-mixing so that, for larger programmes, the local reporter units and local studios can be assigned and satellite uplinks can be established promptly. This frees the sound engineer at the larger console to take control of the live programme, using the feeds from the smaller console.
In summer 2012, an identical main console had been installed at ORF's Regieplatz 1 (RP1); a production control room used for lottery jackpot draws, talk shows and magazine programmes, as well as larger TV shows. For particularly large productions, RP1 can be linked with other studios. The first programming to be produced using the mc²66 at RP1 were magazine programmes, followed by Dancing Stars. With the refurbishment of RP7, now RP1 and RP7 are identical so that, in case of a technical problem, all programmers can be covered by the sister control room. 'The mixing consoles in RP1 and RP7 provide six ports for connecting stageboxes. Two stageboxes are assigned to each studio, but these can be distributed as required,' says Tomek. 'In addition, there are four stageboxes in the 'TV Theatre.'
'The decision to install a second Lawo console in RP7 was based on a bidding process conducted some years ago, that was won by Lawo,' he explains. 'During one cycle of investment, we place high value in adopting one product model. With regard to mixing console technology, this results in benefits in spares pooling, servicing, and contact as well as training. Moreover, our sound engineers work at different production facilities – studios and OB trucks – and find the same operating philosophy and the same console surface everywhere.'
As a result, all ORF sound engineers and Tonmeisters can work in different OB vans and studio control rooms without the need for specific training. Presently, Lawo consoles are installed in almost all ORF OB vans and regional studios' production control rooms. This enables efficient workflows, while the consoles' configurability allows them to be adapted to changing requirements.
More: www.lawo.de