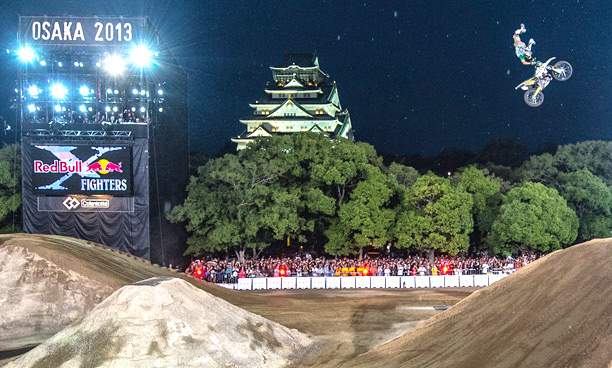 Reflecting the soaring popularity of FMX in East Asia, the Red Bull X-Fighters World Series made its Japanese debut in front of Osaka Castle in the city's famous Nishinomaru Garden. Team riders performed their tricks at heights of 15m in front of 11,000 spectators.
Clear lines of communication were essential to the success and safety of the show…
Billed as the planet's biggest freestyle motocross (FMX) tour, the show used Riedel radio and intercom systems to ensure clear communications throughout live production of the tour's During the event in Osaka, the Riedel gear assured that the Red Bull X-Fighters team could maintain communications. 'Riedel is a key partner of the Red Bull X-Fighters World Series,' a Red Bull X-Fighters Organization Team spokesperson says. 'Communications are a pivotal element in the success of the best freestyle motocross tour on the planet. This is what Riedel provides to the tour each and every day.'
The Riedel systems supported show coordination among event directors and stage managers, lighting and PA staff, and scoring officials, as well as the work of the team's sports, medical, and security staff. Throughout the event, the Artist digital matrix intercom system and MAX noise-canceling headsets proved their worth, even against the roar of motocross bikes on the track and flying through the air.
The custom system used by the Red Bull X-Fighters World Series tour includes three Artist systems, networked in a self-healing fibre-optic ring that not only provides redundancy in the event of a fibre break. The architecture allows the fast set-up of a backbone that can support additions and changes with the click of a mouse rather than running additional cabling. With Director configuration and control software for the Artist intercom systems, technicians can easily adjust levels remotely to improve the clarity, utility and safety of event communications.
In Osaka, the Artist system was interfaced to an OB truck, where the event was recorded and prepared for air and streaming to a live audience around the globe. Artist 1000 Series control panels were divided between FOH, staff and event judges. Nine Performer digital partyline beltpacks were distributed among the judges and the follow-spot lighting crew. These systems were complemented by 150 Motorola radios, with eight Riedel RiFace universal radio interfaces serving as radio repeaters to ensure coverage across the venue.
More: www.riedel.ne