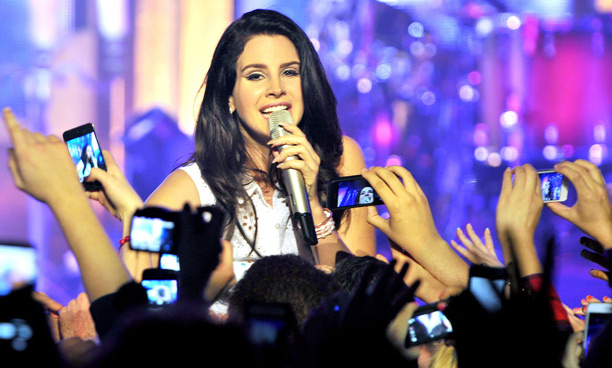 Currenly working her way around the UK and Europe, singer-songwriter Lana Del Rey has the support of UK-based technical solutions provider Adlib and a Soundcfaft/L-Acoustics K1 sound system.
The main PA hangs in their largest configuration are 12 L-Acoustics K1 per side with three Kara downs, together with side hangs of three L-Acoustics SB18s with 12 Kara boxes underneath. The consoles were both Soundcraft Vi6s, with Vi1s for support.
Adlib's George Puttock designed the system, which was specified by Joe Harling and Tour Manager Peter Abbott. Puttock and Adlib's Sam Proctor rigged and oversaw all the equipment on the road, with Adlib's Simon Lawson as PA Tech ensuring that Del Rey's FOH and monitor engineers Joe Harling and Matt Kanaris could achieve the best possible sonic results in a wide variety of venues.
The main PA hangs are supported by 16 L-Acoustics SB28s subs on the floor – six left, six right and four in the centre – positioned to double up as steps that provide stage entrances and exits for Del Rey. Apart from the sound of the K1 system, it is also quick and easy to rig, allowing more time to set up and check the system.
With a string quartet and band, and Del Rey all using in-ear monitors, the stage area is really quiet and the front fills need to play a key role. L-Acoustics' Kara and Arcs to the rescue. These also needed to be tightly controlled, as Del Rey spends a fair amount of time in front of the stage. Lake LM26s managed vocal and band mixes to individual front fill speakers, allowing Puttock to reduce the vocal in specific speakers whilst Del Rey was in front of them.
Two audio networks were run on the tour, one for all the LA8 amplifiers and the other for Lake LM 26 and LM44 processors, plus some Lab.gruppen amps, while the loudspeakers were all driven by LA8 amplifiers running the latest firmware.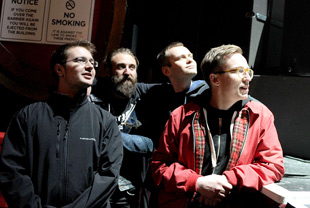 Del Rey and the band used their own IEM and radio mic systems with 12 stereo in-ear mixes, eight for the band and four for technicians, running 67 channels into the desk including shouts and clicks.
Adlib have provided a complete line system with stage distro and full mic splits, plus two of its MP4 low profile wedges for Del Rey as backup and reinforcement for the more challenging acoustic spaces. Two L-Acoustics ARCS with an SB28 sub per side comprise the side fills, and there was also a full mics-and-stands package for the band, using a mix of Beyer, Sennheiser, Audio-Technica and Shure.
For her main mic Lana Del Rey uses a Sennheiser radio mic with a Neumann KMS105 capsule, which sounds 'fantastic', according to Sam Proctor.
'Rarely does such a unique artist come along nowadays as Lana Del Rey, and we have been incredibly lucky working on such a stylish and cinematic style live show,' says Adlib Account Handler Phil Stoker. 'Production Manager Peter Abbott is fantastic to work with and Joe Harling at FOH had it sounding incredible through the K1 system. The set and lighting all added to the intimate yet expansive theatrical feel. Soon the rest of the world will see what European fans have been so vocally excited about...'
More: www.adlibsolutions.co.uk
More: www.soundcraft.com
More: www.l-acoustics.com
More: www.labgruppen.com
More: www.sennheiser.com