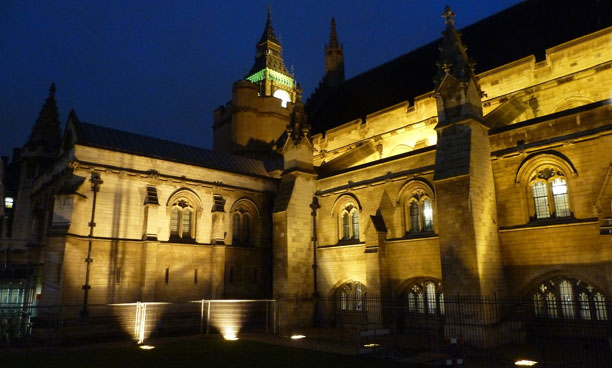 The House the House competition final has won Funktion-One the accolade of first loudspeaker manufacturer to supply the sound system and Shure the opportunity to showcase its digital wireless mics for a house music event in London's Houses of Parliament.
Organised by the charity Last Night A DJ Saved My Life (LNADJ), the two-and-a-half hour musical extravaganza saw a series of inspiring musical performances, including a set by DJ superstar Norman Cook/Fatboy Slim. Headlining the bill was House the House winner Bryce Fury, who took away a prize package that included a fully paid Audio Production Degree Scholarship at the SAE Institute, a set at We Love Space in Ibiza and a haul of Vestax DJ kit.
Formed by Jonny Lee and Ian Kennedy, the LNADJ mission is to use the global dance music community to raise awareness and funding for environmental and humanitarian causes. And initiatives like the Ibiza Heart Project are doing just that. A chance meeting between Mike Weatherley MP and Jonny Lee prompted House the House – a DJ competition aimed at reuniting young people with their communities. LNADJ's team, which includes Creative Director Jim McNulty and Strategist James Holdsworth, set about turning the idea into reality. Funktion-One offered its support at the outset.
Upholding the foundation's 'unity, community and serious fun' approach, the competition invited young DJs from all over the UK to submit 30 minute mixes through Mixcloud. As well as being judged on their musical capabilities, each entrant was required to donate time to a community organisation in their area.
The competition kicked off with an opening party at The Vinyl Factory in London, which was headlined by legendary DJ, Danny Rampling. Funktion-One partner, Project Audio, supplied a system befitting the occasion. The ten Regional Heats were held at some of the country's most respected clubs, including a host of Tokyo Industries venues including Digital in Newcastle and Brighton, FAC 251 in Manchester, Mint in Leeds and Corsica Studios in London. These venues share a common attribute – each is equipped with a Funktion-One sound system.
House sound
When an audio system had to be brought in, Funktion-One partners such as Audio Funktion were on hand to supply it, allowing Young DJs, some playing their first ever gig, were given the opportunity to do what they love in the coolest venues and through the best sound systems.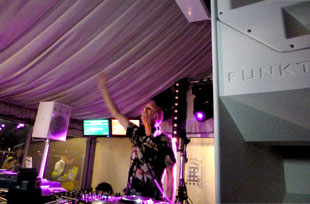 At the final, held at London's Ministry of Sound, Funktion-One founder Tony Andrews was invited to join the panel of judges, which included DJ Trevor Fung, Darren Hughes and DJ Callum from We Love Space,and Réjane Magloire. Winner Bryce Fury had come through his Regional Heat at Digital in Newcastle. Next, he would be performing at the Houses of Parliament, supported by Fatboy Slim.
Project Audio supported the event with equipment and crew for the Houses of Parliament show. The set-up included two white Funktion-One Resolution 2 speakers, a Funktion-One BR218 bass reflex enclosure and Funktion-One F101 speakers for DJ monitoring. The system was powered by Full Fat Audio amps with XTA processing.
Project Audio also supplied Pioneer DJ equipment, a Midas mixing console, as well as lighting kit from Martin Professional, Showtec and Avolites.
'Due to the nature of the venue, we had to ensure that we were fully compliant with all regulations in advance of coming onsite,' says Project Audio Director, Claire Munnelly. 'This, together with limited vehicle access and strict load in times, meant plenty of pre-event admin to ensure we fulfilled our obligations for people, equipment, noise restrictions and vehicles coming on site.'
The gig was staged on the nineteenth anniversary of the Criminal Justice and Public Order Act 1994, which was introduced to suppress the rise of dance culture in the UK. In an almost unimaginable turning of the tables, dance music was being celebrated for its positive contribution to society and individual communities.
'Last Night A DJ Saved My Life is close to our hearts and has been since Jonny and Ian started it,' says Funktion-One's Ann Andrews. 'House the House gave us the opportunity to pass on some of our beliefs – like the importance of top quality sound and not using MP3s – to young people who are in the early stages of their musical journeys. Dancing to house music in the Houses of Parliament, on the anniversary of the introduction of the Criminal Justice Act, was fantastic.'
On the mic
A Shure ULX-D wireless microphone system was also supplied by Project Audio: 'We intended to use our existing ULX-D system on the House The House final, but by a strange coincidence, on the day itself our system was booked out for an unrelated event at another state venue — we were working in all the halls of government that day,' says Project Audio's Jason Bacon.
'We used Beta 87C capsules with the ULX-D, which we've found to be perfect for events where clarity of speech and vocal diction is important,' he continues. 'We get superb results with the ULX-D; it's like no other radio mic system. Graham Logue at Shure Distribution was also very helpful at making sure the second system was delivered to us in time for the event. We had been planning to buy a second ULX-D for a while, so that we have a backup. The second system is not going back to Shure...
'The ULX-D worked a treat and the event went off very well. We even had a few MPs join in the dancing, as a vote in the chamber went on very late, so a few of them joined in to let off some steam when it was over.'
'Once the dust has settled, we might be able to properly take in everything that House the House has achieved,' says LNADJ's James Holdsworth. 'Having the support of people like Tony and Ann, and the Funktion-One community, is invaluable. They bring a wealth of knowledge and experience, and are always on hand with advice. Plus their sound systems are the best around.'
The event is due to be repeated in 2014, with more details to be made available later this year.