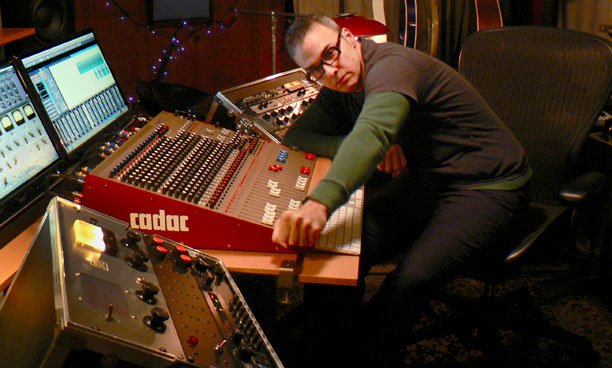 Songwriter, multi-instrumentalist, singer and recording artist Chet Delcampo records as both Chet Delcampo and Hong Kong Stingray and has worked with the likes of Kid Congo (ex Cramps, The Gun Club and Nick Cave), Parthenon Huxley (Eels) and David Lovering (Pixies). Whatever guise his work takes, he is now using the first Cadac Live1 sold in the US in his Philadelphia studio.
Supplied by newly appointed US distributor Lift Distribution, Delcampo chose the Cadac Live1 as a replacement for an aging Siemans console, mating it with some classic and esoteric gear in his writing, arranging and recording suite...
Among this is Burl AD and Metric Halo Lio DA conversion, Magnacord Tube and SCA N72 preamps, Retro 2a3 Tube EQ, Siemens W295 vintage EQs, Blackspade UM17R, Cascade Fat Head II stereo ribbon mics, and Oktava MC012 Joly modified mics, and an Otari quarter-inch two-track tape machine.
If the Live1 seems a strange choice for a recording facility, Delcampo was drawn to its low-noise circuitry, engineering quality, competitive price point and 'Cadac sound': 'The quality factor was my main interest,' he says. 'It's fair to say that being designed as a live desk it has relatively minimal studio monitoring options but, that said, by using the board's AFLs on the monitor and master sections one can easily switch between tracking mode and mixing mode – back to DAW or tape capture and returning into the Live1 to monitor. For my studio, it works well, though for more elaborate monitoring needs there are several I/O monitoring rack units that would be worth considering to provide further options.
'Sonically it is a major upgrade and the workflow, ergonomics and affordability are also very attractive, not to mention Cadac's history and reputation,' he adds. 'And it has cool looks. The improvement is readily appreciated and I have just started to get my head around it, enjoying having the low noise and clean signal path, allowing for the use of select hardware on buses and master to get transformer or tube glow when needed.'
Delcampo studio reflects the lush and layered arrangements that are a signature element of his sound, and which earn him comparisons with the likes of Burt Bacharach, Scott Walker or Brian Wilson.
To date, he has produced two critically popular albums, The Fountain and Apartment Songs as Chet Delcampo, and two further LPs as Hong Kong Stingray. Recently he has also scored for the movie Mr Chen and produced, co-arranged and played extensively on the acclaimed debut album by Heyward Howkins. Right now, he is writing and recording with the Cadac, working on new tracks for an upcoming release, as well as some more film score work.