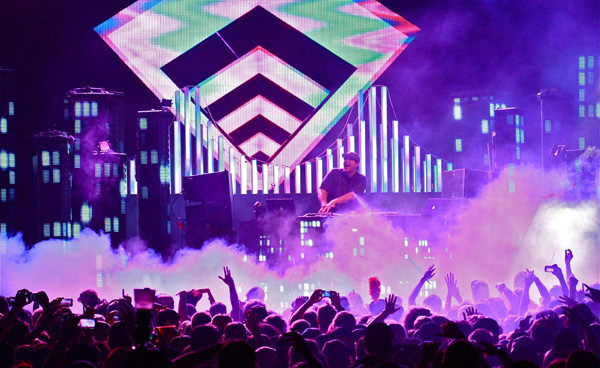 Colorado-based electronic dance phenomenon Pretty Lights (aka Derek Vincent Smith) undertakes his 2012 Illumination Tour – an extensive 50-plus-date North American excursion – through mid November.
To help Smith deliver on his pre-tour promise of 'beautiful and evolved new music and massive, game-changing new production', he turned to Dowlen Sound Inc. In turn, the Arvada-based hire company turned to its Outline GTO line array system, which it has mated with McCauley Sound subwoofers and 58 Powersoft K Series amplifiers.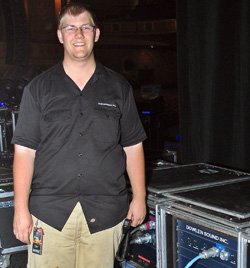 Dowlen Sound's amplifier racks contain a mix of Powersoft K2, K3, K6 and K8 amplifiers, all fitted with the manufacturer's proprietary AESOP (AES Ethernet Simple Open Protocol) networking. Although Outline's GTO system package typically includes equivalent to Powersoft K10 amps, Dowlen Sound – the first company in the world to use the GTO line array – has custom-configured its racks, matching amplifiers with speaker modules in order to fully optimise the system's performance.
'We upgraded 18 of our K2 amplifiers to K3s during pre-production,' says Dowlen Sound system tech, Eric Satre, who is working on the Illumination Tour. Satre also had to make some changes for the McCauley M421 quad 21-inch subwoofers, which offer low-frequency extension down to 20Hz and are on the tour to help deliver Pretty Lights' self-described 'electro hip-hop soul' to a massive fan base. 'The upgrade to the McCauley subs required us to put the K6s into bridge mono mode, two of them into one sub – that's two channels of 7.8kW at 4Ω, 306V, peak, into one subwoofer.'
In addition to the 58 K Series amplifiers, the main audio rig on the tour comprises 24 Outline GTO line array modules plus two GTO-DF down fills, flown 13 per side. Eighteen GTO-Subs (nine per side) plus four McCauley M421 subs handle the low end. Additional 18 Outline Butterfly array modules are available when the tour hits arenas and other large venues. Smith also has six Butterfly modules around his centre stage podium for monitors.
'When I first heard the GTO Outline, powered with Powersoft, I was completely floored,' says Phil Salvaggio, production manager and FOH engineer for Pretty Lights Music. 'The amount of clarity at a high SPL is untouchable by most other systems out there. And when it comes to the low end and the combo of the M421 and GTO subs, which are all powered by Powersoft amps, we really get the audience to feel the subs – as well as bring down the roof.'
'The electronic music world has a very "go big or go home" mentality,' Salvaggio continues. 'So when it comes to video, lighting and audio we have always strived to be at the most cutting-edge with each, whether it is design, content or programming. With audio, we really want the listener to have the best experience possible.'
The tour's lighting and video are down to Brown Note Productions: 'We've spent years with
Pretty Lights and are really proud of what weve done for them,' says Brown Note CEO, Sara Knutson.