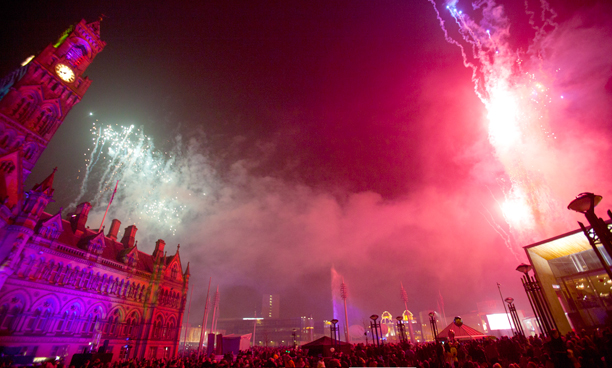 The largest man-made water feature in any UK city, belongs to City Park, a six-acre public space in the heart of Bradford.
Complementing the intra-urban landscape of fountains, trees and green spaces, Pro Audio Systems recently provided a comprehensive technical infrastructure to support the gala opening of the new facilities.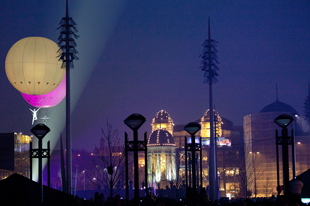 A wide variety of entertainment was on offer during the day, from a street theatre group featuring a giant inflatable lobster to the City of Bradford Brass Band, the award-winning Bradford-based Mind The Gap theatre company, the Q Corporation exploring the British obsession with queuing, 15-ft tall Liver Birds, illuminated stilt walkers and talking postboxes. Musically-inspired performances included a human juke box, a giant opera singer with a hidden orchestra, a five-piece calypso group and a host of local guitarists, dhol drummers and the Keighley-based Jamba Community Samba Band. High above the square a troupe of acrobatic helium balloon performers gained much attention, and the day ended with a spectacular firework display.
Plenty for PAS to have to think about…
A temporary live production area was created in front of the town hall, which featured Hydromania by Avanti Displays – an extraordinary act which includes a live band, singer, a soundtrack and numerous performers with water shooting from all over their bodies. For this area PAS set up three Meyer Sound UPA-1Ps and two 700-HPs per side with all the loudspeakers weatherproofed to deal with the large volumes of flying water, plus more than 100 fixed and intelligent lighting fixtures and control gear, as well as several smoke machines.
The central City Park area required a separate system supplied and operated by PAS, comprising eight Meyer Sound MSL-4s plus six 700-HP subs in a cardioid pattern. The company also supplied a wireless link to transmit the time code for synchonisation with the firework display, plus Telex BTR700 wireless comms systems for the technical crew and show co-ordinators, and two high-powered followspots specifically for the aerial acrobatic performers.
The event finale was a spectacular firework display which included the unveiling of the huge Blast Fountain, for which Pro Audio Systems further used four Martin Mac 2000ii Moving Spot lights controlled via wireless DMX. The most striking visual aspect of the event was the interactive fountains, which at 30m include the tallest in any UK city. The 'mirror pool' (which can be emptied to provide a live event area for up to 10,000 people) is surrounded by them, all individually illuminated by high intensity LEDs, and controlled during the event by PAS crew from a lighting console via DMX to Art-Net protocol.
'The event was a great success with thousands of people attending, and once again Pro Audio Systems provided a high quality, professional service that added to the overall impact of the day,' reports Vanessa Mitchell, Major Events Programme Manager for Bradford City Council
More: www.proaudiosystems.eu
More: www.meyersound.com