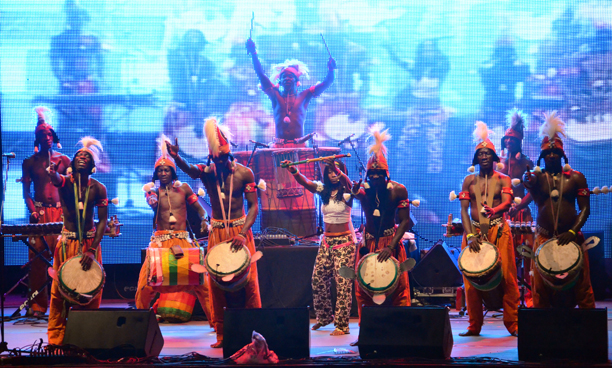 The Penang World Music Festival 2012 saw Kinakoworx Productions and Echo Sound in action behind the scenes, marking the return of the event from a three-year break.
In order to mic the vast range of traditional and acoustic instrument in play, Kinakowork and Echo Sound found themselves calling on Malaysian dealer AV United for mics – and using a good number of DPA Microphones' 4099s. In particular, Aftican drum troupe Guinee Percussions were pleased to be free from the limitations of mics on stands and heavy instrument mounts.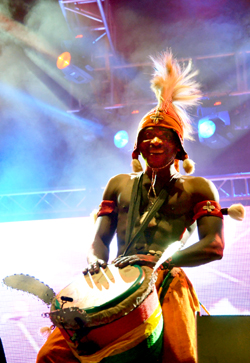 The open-air event was hosted by the Penang State Tourism Development & Culture Office, and held at Quarry Park in the Penang Botanic Garden. It featured 18 bands, some coming in from as far afield as Colombia and Mongolia, as well as artists from Indonesia, South Korea, the Philippines and Australia. Among those performing were Altan Urag (Monglian folk rock), Gus Teja World Music (Balinese ethnic music using mixed instruments), Loyko (Russian Gypsy music) and Phong Nguyen Ensemble (Vietnamese traditional music), along side local acts that included Aseana Percussion Unit, Didit Dinai and the Penang Dhol Blasters.
The DPA mixs – ten DPA d:vote 4099D clip mics for drums and two 4099V clip mics for violins – were specified by the festival's technical director Niall Macaulay for their ability to be used on a variety of instruments thanks to their mounting accessories for piano, guitar and bass, as well as drum and violin.
'This was my second time working with DPA 4099s,' says festival monitor engineer, Desmond Lee. 'I did a jazz festival last November using a 4099 on grand piano, played by Cuban pianist, Gonzalo Rubalcaba, and was stunned by the sound quality it produced. It sounded natural, with great gain before feedback, which is a big advantage for me on monitors. It can also handle high SPLs very well. The best thing is the microphone can produce natural low ends but without creating problems such as distortion. The flexible adapters and accessories are a great add-on too.
'The sound quality of the DPA 4099 is hard to beat, while its small size gives it a low profile and easy deployment, especially on violins, he adds.
More: www.dpamicrophones.com