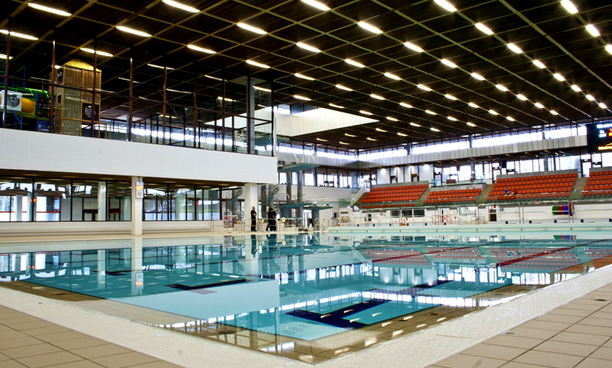 A £37m renovation and refurbishment programme is on course bring Edinburgh's Royal Commonwealth Pool back into use as a 21st century aquatic centre – and mark the 40 years of history that have seen it play host to two Commonwealth Games.
Alongside two years' attention from its main contractors, the landmark A-listed building in Scotland's capital has called on local installation expert Audio Light Systems to address the demanding acoustical challenges facing its audio needs.
'The original design put forward was for a series of large speakers pointing downwards, but this type of system design was what they had there before, and it caused some problems with intelligibility due to the reflective nature of the space,' says Audio Light Systems Project Engineer, Steve Aitchison.
The pool area is large, empty space, complete with high Iroko ceilings and endless reflective ceramic tiles and glazing. There is also a seating area, which accommodates hundreds of spectators for specific events, and a new diving board configuration, which meets international requirements for major diving events – including for the Commonwealth Games Diving 2014.
The Audio Light Systems team was aware that an alternative approach was required, and after working with Tannoy's QFlex in another prestigious installation at Stirling University, they saw it as ideal the Royal Commonwealth Pool. Designed to focus acoustic energy on the desired listening plane and away from surfaces that cause reflections, the system is able to limit the sound directed towards reflective acoustic surafces. The system also meets the requirement for a 'discreet, low visual impact' solution that was paramount to the contract.
The solution was two QFlex 48s close coupled facing 90° from each other, mounted 6m high. Just these two units are able to provide total coverage. 'The intuitive BeamEngine GUI allows the designer to specify target areas,' Aitchison explains. 'It meant we were able to visualise the coverage of each loudspeaker in the system and create steering files to suit the specific space.'
The QFlex technology means the system is able to achieve even, full-range coverage and SPL which is maintained across the listening plane, and is able to create an asymmetrical pattern to allow similar SPLs both in the close and far field. It can steer focused beams of acoustic energy to frequencies beyond 12kHz, which makes it suitable for full-range musical material as well as spoken word.
'There's a portable PA system they wanted for events,' Aitchison says. 'This has three plug in points around the pool, and they are routed directly to the QFlex system. So if they have a race on, they can have someone doing announcements and commentary, which is ideal.
'The client is amazed with the results,' he adds. 'Compared to what they had before, this really is night and day. Now you are looking at a crystal clear paging system in the swimming pool area, which has bags of volume. So even when it is busy you have plenty of headroom. The client is genuinely delighted with the results, and the success of the project has led us to look at the Q-flex on even more projects.'
More: www.tannoy.com
More: www.audiolightsystems.com
More: www.thecommiepool.co.uk