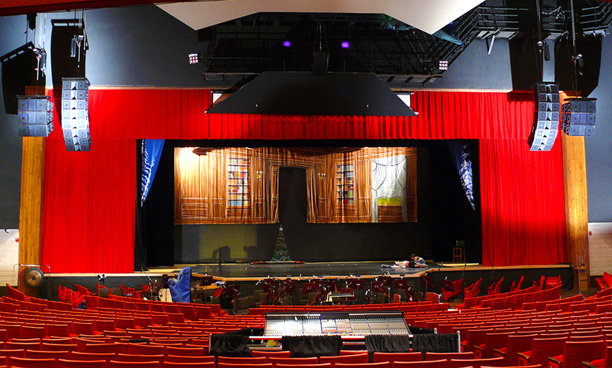 The Star Plaza Theatre in Merrillville, Indiana shone the spotlight on Broadway Music when it needed to upgrade its sound system.
With a diverse event schedule that includes appearances by major touring artists, the theatre has installed a permanent JBL VerTec line array system after repeatedly needing to rent loudspeaker systems to accommodate the needs of larger productions. The VerTec system fills the 3,400-seat venue from the main floor through to the mezzanine.
Brian Wynn of Merrillville-based Broadway Music used his expertise, 25-year relationship with the Theatre and personal experience with JBL to provide Star Plaza Theatre with the best sound system possible. The main PA system features left-right arrays of eight VerTec VT4888DP-DA mid-size active line array elements each, with a centre array of three VRX932LAP powered Constant Curvature loudspeakers. VT4880ADP-DA powered full-size arrayable subwoofers are hung three per side above the stage.
With a schedule that also includes theatrical and orchestral productions, it was important to keep the subwoofers off the stage so they would not compromise the performances. Using the self-powered speakers also pleased the engineers at the Star Plaza Theatre, as there was no need for additional amplifiers behind the stage. 'We've seen plenty of systems go in and out of the Star Plaza Theatre and we ended up at a point where there was no reason for the Theatre to continue renting or dealing with acts hauling their own VerTec in, leaving the in-house system cold,' Wynn says. 'Some of these bands already have saved settings for VerTec so it's almost a plug-and-play situation when they begin their setup and soundchecks.'
'I could not believe that one of the best sounding venues in the world could sound even better,' adds Star Plaza Theatre General Manager, Mark Bishop. 'The VerTec line arrays enhance the acoustically acclaimed Star Plaza Theatre to a whole new sound level. The folks at JBL and our friends at Broadway Music were a pleasure to work with throughout this project. The entire staff at Star Plaza Theatre is grateful, and I'm sure our audiences will appreciate the system for years to come.'
'The system sounds excellent,' Wynn finishes. 'We have great coverage, even with the extremely high ceilings. There is definitely a significant difference in the performances and it is a positive one with JBL.'
More: www.facebook.com/broadwaymusic
More: www.jblpro.com