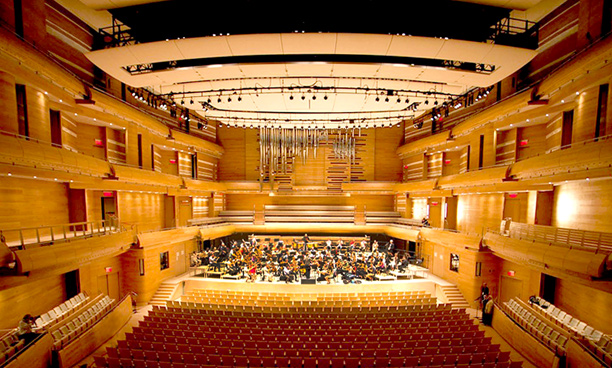 The Montréal Symphony Orchestra has recently moved to its new home at La Maison Symphonique de Montréal. With impeccable acoustics from Artec Consultants, the venue will host a wide range of musical and theatrical performances.
Behind the scenes, a comprehensive paging system that will ensure smooth management of its events, courtesy of a Symetrix SymNet-based comms network. Installed and programmed by Philippe Beaudoin of A/V integrator Solotech, the signal processing and interface technology provide a powerful six-zone paging system.
The lobby zone conveys pages for patrons, typically before performances and during intermission and retransmits the audio captured within the hall for late arrivals – a camera feeds displays on all three of the veue's levels and a microphone sends audio to the paging system. Based on their physical layout and intended usage, there are two separate dressing room zones. The stage manager's booth, the recordist's booth, the house audio mixer, the follow spot operators and the lighting board op, have their own zone, while the venue managers' offices have their own separate zone. The final zone patches through the main audio mixer into the house sound system. More than 300 McBride 820CXB paging loudspeakers powered by two QSC CX-204V and two QSC-1202 amplifiers deliver the paging system's output.
The heart of the system is a Symetrix ARC-SW4 and ARC-XLR, a pair of wall panel remotes with integrator-programmable pushbuttons and an XLR jack. Room managers and stage managers have their own Symetrix ARC-SW4 and ARC-XLR to handle outgoing pages, and each one is configured in the same way. Two mobile racks can be plugged and patched from different areas of the venue for temporary needs of traveling productions and events. Of its eight buttons, six are labeled by zone. To deliver a page, the user pushes a button for each of the zones that he or she wants to include. Then a push-to-talk button, combined with a Shure 527B microphone, executes the page. Additional features include a pushbutton chime, which calls patrons to the hall prior to a performance or after an intermission, and a volume control override button. Although it may find other uses, the volume override button's intended purpose is to deliver urgent messages, such as when a musician or the conductor needs to be called from the dressing room to the stage.
An open-architecture Symetrix SymNet 8x8 DSP, supplemented by a Symetrix Control I/O, sits in the middle of the system. It handles the complex routing required of the system, along with all of the frequency and dynamics processing nuances: 'Symetrix delivered on two essential features that make the paging system at La Maison comprehensive, easy-to-use, and cost-effective,' says Beaudoin. 'First, it has a wealth of flexible logic modules, which meant that I could design the system to hang together robustly. Second, the ARC remotes convey logic controls and audio on a single Cat5 cable with very liberal distance restrictions. That made the physical installation as easy as it could possibly be.'
More: www.symetrix.co