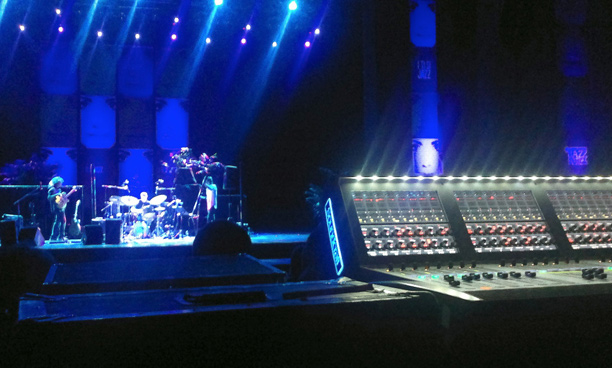 Hosting some of the world's best jazz, the annual Belgrade Jazz Festival began its 2011 outing with a set from guitarist Pat Metheny. Out front and behind the scenes, sound and lighting specialist Studio Berar provided full technical support with a JBL VerTec VT4888 speaker system and Soundcraft Vi6 digital FOH console as their main sound reinforcement components.
Studio Berar was called in by production company and festival organiser, Dom Omladine Beograda, for whom they have provided Harman solutions in the past. With Momcilo Berar and Emil Berar managing, the JBL system was set up to serve for the 3,700 seats of the Great Hall of Belgrade's Sava Center.
This year's event used two VerTec hangs of ten elements per side, with ground-stacked VT4880 fullsize arrayable subwoofers and JBL VRX932LA Constant Curvature loudspeakers. The entire system was powered by a combination of Crown I-Tech IT4000 and IT8000 amplifiers.
With Studio Berar sound technician Ivan Paplacko at front-of-house, the Soundcraft Vi6, with Vistonics II interface, was set up with a generic 'house patch', which the individual technicians were able to personalise. The company's Marketing Manager, Lazar Josanov, explained that: 'Ivan was able to provide a very simple introduction to visiting sound engineers, although most were already familiar with the platform. The Vi6 was the perfect selection for a multi-act show – largely because of its simplicity of use, combined with the Vistonics interface. This allowed the technicians to have all the data right before their eyes [and at their fingertips], with simple logical shortcuts.'
He concluded by saying that everyone – from the visiting engineers to the production company—had expressed their satisfaction with the knowledge, experience and professionalism demonstrated by the Studio Berar team.
With Charles Lloyd and Joachim Kühn, Bollanija Stefano, Marc Ribot, Cristina Branco and Elliot Sharp, as well as rising stars such as Tigran Hamasyan and Anat Fort, also on the bill, this year's festival was dedicated to Serbian artist, Dusko Gojkovic, one of the country's most successful jazz artists, who was celebrating his 80th birthday.
More: www.jblpro.com
More: www.soundcraft.com