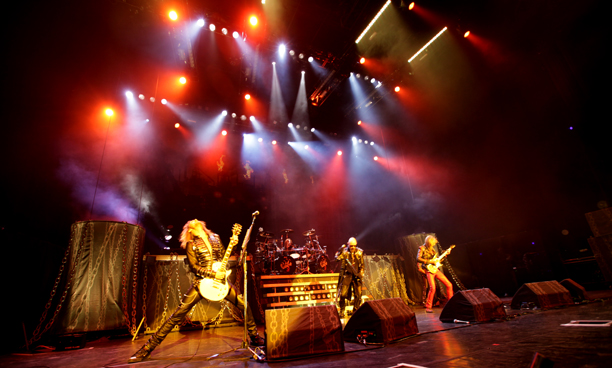 Claiming 'final world tour' status, Judas Priest is set to visit metal excess on Europe, South America, Mexico, and 35 stops in Canada and the US. The next stop is Japan in early 2012.
With the help of supplier Major Tom Limited, the Epitaph tour will see the band using a Meyer Sound at FOH and on stage with a DiGiCo SD7 handling the FOH mix. The Meyer Sound system includes 48 Milo line array loudspeakers, 24 700-HP and four 600-HP subwoofers, three M'elodie line array loudspeakers, and six MJF-212A stage monitors.
'It's a very full sound,' says production manager and front-of-house engineer Martin Walker, who has been with Judas Priest for more than a decade. 'Milo is a consistent-sounding box. I try and keep the system as flat as I can, and the coverage is great and very even. When you get side hangs, you can make that coverage seamless between the side and main hangs. I don't have to work that hard at it, to be honest.
'A lot of subs just move loads of air and make a big noise, but not necessarily a musical noise,' he says of the 700-HP and 600-HP subwoofers. 'These sound very musical as well as being powerful and moving lots of air.'
Monitor engineer Kevin McCarthy first mixed Judas Priest in 1991, and says the band is especially fond of the MJF-212A stage monitors: 'We struggled to find the right wedge for years, and then found the MJF-212A. Judas Priest is a guitar band and the MJF-212A duplicates the guitar sounds fantastically. They get really loud; they sound really clear. They loved them from the first day we used them.'
In an atypical set-up, the three M'elodie line array loudspeakers are aimed straight down from the front truss: 'I try to keep the pit and edge of the stage clear because the band will use every inch of the stage,' Walker explains. 'It was an idea I had a long time ago, to put the in-fill up high and point it down. It works really well and keeps the stage clear.'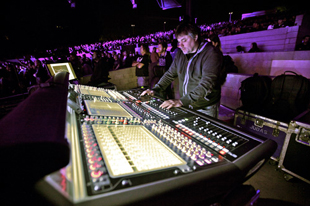 At front-of-house is a DiGiCo SD7 console, TC Electronic D-Two delay, Avalon compressor for the lead vocals, Eventide Eclipse Harmonizer and a few Yamaha SPX990 multi-effects processors. At monitors, McCarthy mixes on a Yamaha PM5D with help from an Apogee Big Ben master clock and plug-in package from Waves. The band uses Shure microphones and wireless personal monitor systems, along with JH Audio in-ear monitors.
Classic hard-rock band and Meyer Sound appear to be a good match: 'It goes as loud as you want it to,' Walker says. 'It can sound hi-fi, but you can also make it sound like a big rock PA. Judas Priest is a huge-sounding band, and they have plenty of dynamics, too. They have their quiet moments, which make the loud moments sound even louder.'
More:
www.meyersound.com

More:
www.digico.org