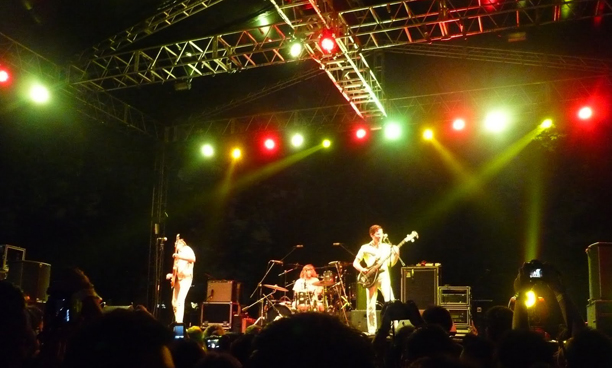 A string of performances in Indonesia and Singapore gave the region it's fist tast of Allen & Heath's iLive digital mixing system, thanks to American indie rock band, We Are Scientists.
The tour started in Bali, at the new Temple of Enthusiasm venue, where local rental company, Sumber Ria, supplied the system, which comprised an iDR-48 MixRack with iLive-T112 Control Surface at FOH.
'It was the first time in that area that iLive had been used and the results were incredible, especially as it was amid total chaos, including a domestic dispute that climaxed in a full bottle of beer exploding on the T112,' says FOH engineer, Tim Walter. 'The surface and I were both covered in beer and glass but the local techs cleaned up the desk while I ran to the stage to mix from my laptop for a few songs.'
The band also performed on the main stage at the Java Rockin' Land festival using an iLive modular system, also provided by Sumber Ria who were managing the festival and had installed iLive systems on a majority of the stages.
The final show was at FR Canning Park in Singapore, with fellow US band, the Neon Trees, who are on tour travelling with a compact iLive monitor rig, comprising an iDR-32 MixRack operated by a laptop, iPad, and a PL-6 fader panel.
'Their FOH engineer was ecstatic to find an iLive-T112 in position,' says Walter. 'It was supplied by a local sound company, who were very impressed by iLive's facilities, ease of use, and the incredible speed at which engineers could work on them.'
More: www.sumber-ria.com
More: www.allen-heath.com