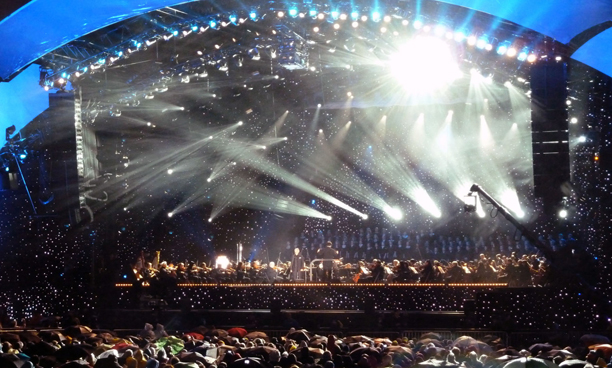 The cold, wet weather failed to dampen the enthusiasm of the 60,000 opera and pop fans that assembled for Andrea Bocelli's free Central Park concert in September.
Accompanied by the New York Philharmonic and Westminster Symphonic Choir, Bocelli shared the stage with an impressive list of guests – including Ana Maria Martinez, Pretty Yende, Celine Dion, Tony Bennett, Chris Botti, David Foster, Bryn Terfel, Nicola Benedetti and Andrea Griminelli – to perform his best loved work on Central Park's Great Lawn
Firehouse Productions provided the sound reinforcement system.
This featured left and right arrays of a dozen L-Acoustics K1 boxes paired with three Kara for down fill. Clusters of three Arcs were furthermore hung on the far sides of each K1 array to cover the front corners of the audience.
Sixteen SB28 subs positioned under the front riser supporting the camera dolly delivered the low end, with an additional four SB28 per side set up in cardioid mode to complement the Arcs outfills and enlarge the LF arc delay coverage. The K1, Kara and SB28 systems were collectively powered by 22 LA8 amplified controllers, all housed in LA-Rak touring racks.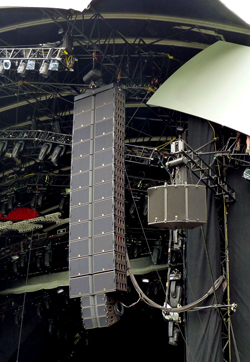 'As expected, K1 performed extremely well,' says Sound Designer and FOH Engineer Andrea Taglia, who has worked with Bocelli for the past five years. 'The system is absolutely uniform on the horizontal axis, its long-throw capacity is amazing, and it was very effective in bringing a nice sound image back to the stage – even though our six delay towers were positioned so widely across the Great Lawn at the request of the video director. Although there were 60,000 people in the audience that evening, considering that Bocelli's last CD sold 5m copies, the true focus of this concert was on capturing a pristine live recording
'The line producer congratulated us during the sound check/dress rehearsal, and then again after the concert,' he adds. 'Event Resources' production manager also congratulated us after the show and commented on how the live sound was perfect, even at the end of the lawn. And the team at the Sugar label, who conceived and organised the event with Bocelli, were absolutely overjoyed because, again, their primary objective was to achieve a great recording, which they did.'
Taglia credits L-Acoustics' acoustical modeling software, SoundVision with the event's success: 'I always set up my systems with SoundVision; I find it very accurate and trustable. With it, I was able to cleanly keep the sound off the stage, greatly minimising spill into the microphones, and everyone was very happy with the results.'
The concert was recorded by Thirteen/WNET for a national PBS broadcast of Great Performances airing on 2 December. A CD and DVD appropriately titled Andrea Bocelli Live in Central Park will also be made available prior to the holidays, released on Sugar/Decca.