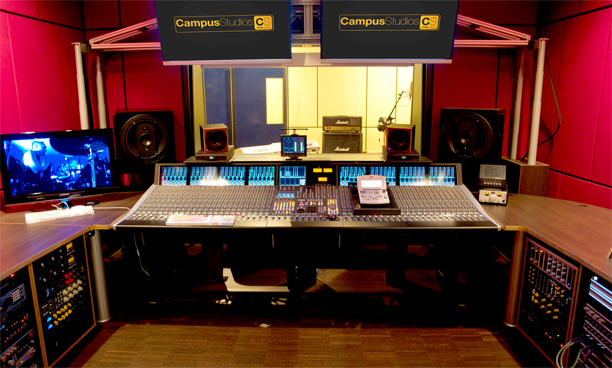 Part of the Faculty of Media at the Leipzig University of Applied Sciences, The Media Centre's degree classwork covers print media, publishing, film, television/radio, music production and new media disciplines. Part of this involves traditional analogue recording and routing techniques with DAW capture and control – which are now served by a new 48-channel Solid State Logic Duality console in the university's CampusStudios.
The console allows the Leipzig University of Applied Sciences (HTWK) to cover both traditional and new media production methods: 'For our audio programme, we needed a console that would supply the very best learning experience says Christian Birkner, CTO of the CampusStudios. 'Duality is a professional tool that our students will see in the field, giving them the understanding of an analogue signal path and routing, while controlling DAWs like Pro Tools, Logic and Nuendo. Duality builds a strong foundation for a traditional workflow, while addressing the needs of a virtual workflow.'
Another consideration for the purchase was longevity in both physical build quality and operational relevance. As HTWK Leipzig is government funded, buying a piece of equipment mandates a nearly two-year procurement process. Duality met all requirements making it a future-proof investment.
'Going with a dedicated controller was not an option for us, so we needed a console that would work well with any DAW platform,' Birkner explains. 'Because a controller is usually associated with one software package, the lifetime of that controller is fully dependent on the design philosophy of the DAW. If the software changes, the controller becomes obsolete. Duality's integrated DAW control is the best we have seen, is updatable to stay current and can address any of the software platforms we offer. We also wanted an analogue console that will sound and work the same 20 years from now as it does today. We believe Duality can accomplish this requirement.
'Our degree requirements are innovative and deliver graduates that fully understand all aspects of media production,' Birkner adds. 'For example, we have students who are interested in audio, but get experience with traditional printing, film production and new media. Our audio graduate now understands that producing a music project also involves shooting a music video, creating a CD with insert and creating versions of the project compatible with Web distribution. Duality fits our educational model perfectly as it delivers a superior learning experience for our students regardless of what media format they are working in.'
More: www.htwk-leipzig.de
More: www.solidstatelogic.com