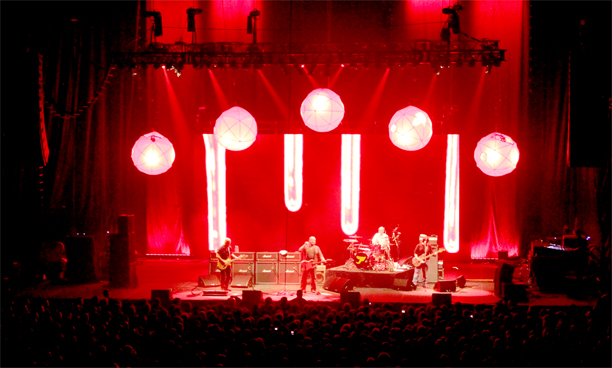 With a long history in the corporate market, but less well-known in touring circles, the opportunity to take on not only the sound but also lighting and video for the Pixies North America tour was a gift to Florida-based LMG Touring.
'We had already confirmed the LED video and lighting parts of the tour,' says Touring Sales Manager Craig Mitchell. 'When I learned the band's preference was for a d&b audiotechnik PA system, I suggested we provide sound as well.'
'I wasn't familiar with LMG before the last Pixies US tour,' says the band's long-time engineer Ray Furze, who uses Yamaha's PM5DRH digital console for the job. 'When Simon [Pixies Production Manager, Simon Foster] mentioned they had a d&b J-Series system and were interested in doing the whole package, I had to do a lot of asking around. Specifically, I made calls to Craig [Mitchell] to check they could supply all our specification, and if they had crew who were experienced and competent at rigging and tech'ing the system.'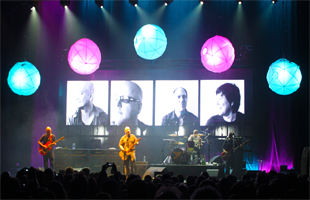 Although Furze has mixed the Pixies since the late 1980s, he is based in the UK, adding to his caution: 'This is not always an easy task at a distance and although in the end all the boxes were ticked, I was still a bit apprehensive.' He says. 'With little production time when we arrived at the first show, we didn't have a lot of room for things not to be right.'
So Mitchell listened hard to Furze's questions: 'He obviously knew the J-Series inside out and was very clear in describing his goals. Ray was taking the band into small and large theatres, and small arenas – whatever the venue, he wanted to achieve that intimate Pixies sound.'
The attention to detail was reflected at the LMG end: 'The gear and cabling supplied was immaculate, and the two LMG Touring techs Andy Vickery and Dave Kuhn, were well on the ball and were used to working with the J-Series,' Mitchell reports.
Furze is particularly complimentary about Vickery's skills with the system: 'Mixing a tight four-piece band has to be one of the most satisfying jobs for any engineer, everything they play has its place in the mix,' he says. 'The Pixies have solid drums and a distinctive bass sound that has very little in the way of sub frequencies – both guitars play quite separate parts so it is easy to distinguish between them and both vocalists have very strong voices. Andy is very very competent with J-Series and also has a lot of experience with most major systems. He has picked up on how I like the system to sound, how I work, and I have complete confidence in him.'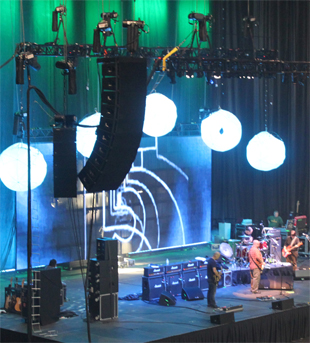 Hardly a hi-fi band, the Pixies' sound is unique and needs to be addressed correctly: 'They have a very dynamic alternative rock sound,' says Furze. 'What I am aiming for is a great club gig sound in venues that range from larger clubs holding 1,000-2,000 people through theatres, arenas, even festivals for 70,000: quite a big variation in acoustics. The d&b J system although capable of producing a very hi-fi sound, has been my system of choice with all types of act since it came out and I have had excellent and consistently great results in a huge variety of venues around the world. EQ wise, in most cases I end up with just one or two notches to deal with room resonances. There is no getting away from the fact that this is a loud band but people are a lot more tolerant of volume if it is well balanced through the spectrum. I find the J loudspeakers to be particularly smooth in the high/mid range, a range that can be very unpleasant and harsh with some other systems.'
With bases in Las Vegas and Dallas, a new touring design studio in Nashville and its headquarters in Orlando, LMG has considerable continental reach so the tour was able to unload in Vegas when they finished off in Victoria BC. 'We started servicing tours just two years ago,' says Mitchell. 'Last year, we serviced 20 different acts. Because we float our inventory, none of it is base specific – we can position equipment to suit our client's geographical needs. Consolidation is not just about common sense, convenience matters too. We invest heavily to give our clients what they want, where and when they want it.'
More: www.lmgtouring.com
More: www.dbaudio.com