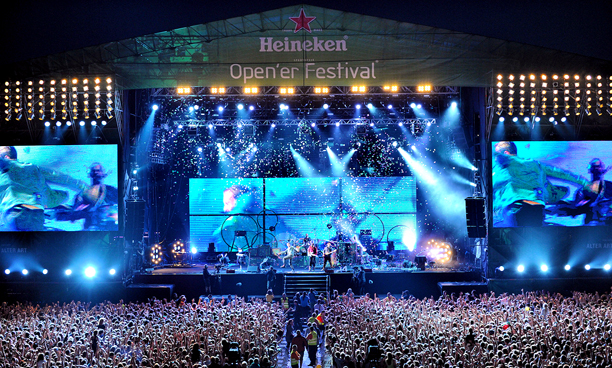 The Heineken Open'er Festival marked its tenth anniversary with Prince, Coldplay, Pulp and The Strokes performing to crowds of 60,000 to 86,000 for each of its four days.
Requirements for sound system for an event of this size are considerable – as the company behind the sound system for the main stages knew well. So GMB Pro Sound turned to Lab.gruppen's PLM 20000Q amplifier for the first time. 'My colleague Janusz Klimowicz was instrumental in our purchase of new inventory of PLM 20000Qs,' says GMB Pro Sound Director, Remigiusz Kasztelnik. 'We had used fP and fP+ Series products before, but none of us had experience working with PLM Series.'
GMB Pro Sound has been responsible for realising the sound for the biggest music events in Poland, having worked with the organisers of events including the International Festival of Contemporary Music Warsaw Autumn, IRCAM concert, the Ad Livitum Festival in Warsaw, Chopin and His Europe Festival, and the concert of the Wien Philharmonic Orchestra Concert. As well as handling the sound for Heineken Open'er Festival for nine years, the company is also involved in such events as Top Trendy Festival, Coke Live Festival, TVN Sopot Festival and SelecTor Festival.
For Open'er, GMB purchased a number of PLM 20000Q units from Polish distributor Music Info, making it the first company in Poland to use them. As well as providing four discrete output channels (bridgeable, each >5kW into 2.2 – 3.3Ω (4.4W into 4Ω), the PLM 20000Q has integrated Lake Processing. The result is flexibility in configuration, digital filtering and delay and the ability to drive difficult loads. Lake Controller software allows configuration, monitoring and tuning of the full system from a Windows laptop or tablet for control and convenience.
'For a relatively minimal current draw, it delivers extremely high output power across four channels, which makes the PLM 20000Q ideal for an event such as Open'er Festival.' says Remigiusz. 'For example, we integrated the new units into our existing JBL setup, with four PLMs on each side of the main stage powering the line array hangs and subs, and another two driving the monitors. With Lake Processing handling system optimisation, the end results were incredible.'
As well as providing the PA for the main stage, GMB Pro Sound also used the PLM 20000Qs on the Tent Stage, which hosted James Blake, Paulo Nutini and Chromeo over the four days.
Since 2009, Open'er Festival has won the European Festival Award for the Best Major Festival twice, the most important and prestigious award for music festivals in Europe.
More: www.gmbprosound.pl
More: www.musicinfo.pl
More: http://labgruppen.com