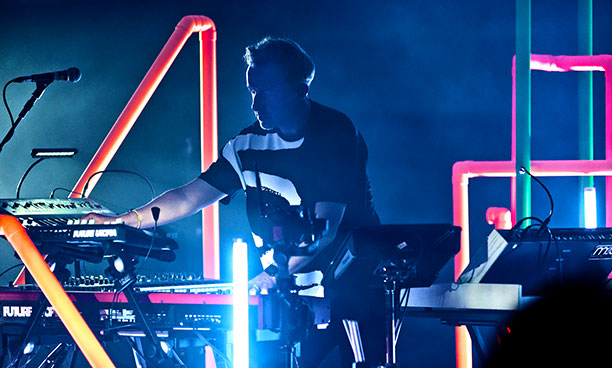 Despite the debut album from Fraser T Smith's Future Utopia solo project, 'definitely conceived as a studio project, with no plans to take it live', album recently received its first live outing, at Bold Tendencies in Peckham, South London. Reworked for a live setting and delivered via a d&b Soundscape system, the album set features Smith playing live synths and electric bass, with contributions from guest artists whose schedule allows.
For two decades he has moved between multi-instrumentalist and mix engineer, songwriter and producer with artists from Craig David and Kano to Adele, Celine Dion and Kaiser Chiefs. His album 12 Questions explores a dozen Big Questions that its eclectic line-up of talent to 'muses, discusses and attempts to answer'.
Poets (Alysia Nicole Harris, Simon Armitage), rappers (Stormzy, Dave, Kano, Tia Carys), established and emerging singers (Bastille's Dan Smith, Duckwrth), artist Es Devlin, activist Albert Woodfox, Idris Elba and numerous others contribute to a deeply personal and involving album that puts Fraser's varied influences firmly in the spotlight for the first time.
'Things developed, and Es Devlin – who has an involvement with Bold Tendencies – was instrumental in getting the ball rolling for these two live performances,' Smith explains. 'I was really excited about that prospect, but it definitely posed some challenges. Given the number of amazing collaborators I was privileged enough to have on the record, I needed to think about how to deliver a live show without making demands on everyone's schedules. So I re-imagined the tracks – essentially re-mixing them for live - and that way I can bring artists in if they're available.'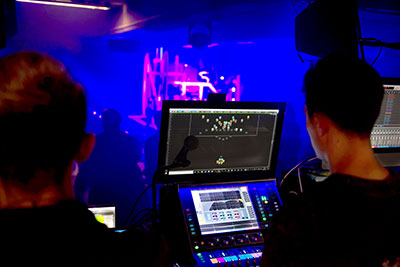 As a producer who has also mixed Number One singles, it is unsurprising that Smith had a keen interest in the way the live 12 Questions experience was delivered.
'There's a lot going on with the tracks, and I knew from the start that I wanted to give the live audience an immersive audio experience,' he says. 'The possibilities of really widening the sound stage and creating a cinematic performance was what appealed. I was introduced to d&b and Soundscape by Charles [Bidwell, Future Utopia FOH engineer] who has a long history with d&b. He arranged for a couple of demo days in Nailsworth and as soon as I heard what Soundscape would allow us to do, I knew it was going to deliver what I wanted. It really blew my mind how much control we could have over the placement of elements of the mix and how creative we could be.
'The concept for the show was to have this wall of sound with a very strong centre, and then use Soundscape creatively to move around the synth parts, delayed sounds etc. To be free from the restrictions of a traditional LR live mix was very liberating. It really allowed us to bring to life the re-imagined version of the album and pull the audience into the performance.'
Preparing the live show fell to FOH engineer Bidwell: 'We programmed a lot of the placement and movement into Ableton automation, Ableton could then transmit control data live to Soundscape, which allows me to really focus on mixing during the set,' he recalls, 'I'd spent a day with d&b in Nailsworth programming everything, Fraser joined us on day two, loved what Soundscape was doing and told us to go wilder. He really wanted the immersive aspect to be super-obvious, he wanted that paint thrown all over the canvas.
'In the end, he and I were very happy with the results on the night. Given that Bold Tendencies is, essentially, a venue in a car park with all the attendant challenges of being very reflective with low ceilings, Soundscape ensured we could come up with solutions to all those issues and give the audience an involving audio experience.'
The system set-up comprised d&b Y-Series point sources arranged in two layers to create the 'wall of sound', as well as a delay line for the vocals. The Y-Series pattern control ensured clear and focused sound despite the hostile concrete environment, while smaller E5 loudspeakers were used as surrounds, enhancing the immersive experience for the audience and enabling Bidwell to create the desired special effects by placing and moving sounds around the room, utilising Soundscape's En-Scene object positioning software.
'I can't imagine doing these shows without Soundscape, to be honest – it's really like going from black and white to colour,' Smith confesses. 'I'm already getting ideas together for the next record and having had such a positive experience with Soundscape, it's definitely going to have an impact on my creative process.
'Spatial audio is going to shape the way we make and record music in the coming years and so we'll have to have a way to translate that live,' he adds. 'Going in to the writing and recording of an album knowing that we'll be able to place sounds and move things around in a live mix will undoubtedly change the way I approach things in the studio. These are really exciting times to be an artist.'
More: www.dbaudio.com