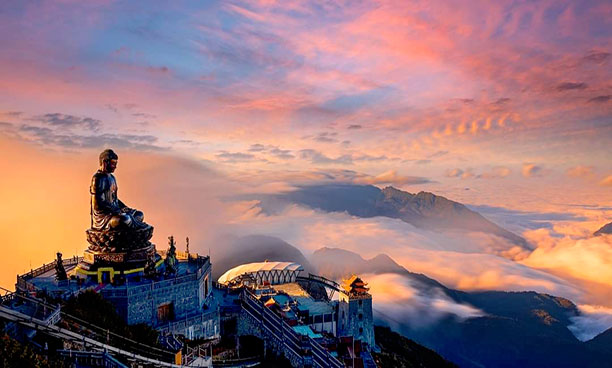 An expansive religious and tourist attraction at the top of the highest mountain in Vietnam. Fansipan Peak features traditional Buddhist temples, the world's longest three-line cable car system, a funicular railway and viewing platforms with views across the Hoàng Liên mountain range and Hoàng Liên National Park – all attracting millions of tourists and travellers.
Calling on Electro-Voice loudspeakers and Dynacord power amplifiers, Truong Thinh Sound – Light Equipment JSC installed a system to provide audio for live performances and religious activities, and withstand the harsh conditions at 3,143m above sea level.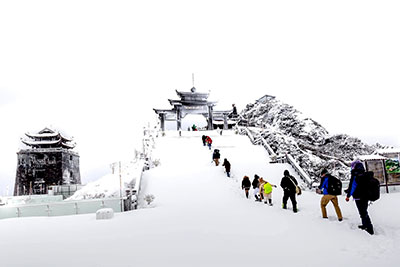 Enduring everything that the mountain known as The Roof of Indochina throws at it, the sound system is exposed the full range of elements that nature throws at it, from extreme cold down to -8°C and humidity up to 100%, along with heavy rain, wind, fog, hail and snow, while delivering even coverage across the outdoor areas for the music that accompanies the year-round programme of traditional dance performances and other festivities.
To achieve this, the team at Truong Thinh recommended fibreglass versions of all the EV loudspeakers, weatherised and IP55-rated for direct-exposure outdoor environments. A total of 20 X1i 12-inch, two-way line-array models are available for deployment on mobile trussing anywhere around the complex, with array size selected according to the application. The X1i provides wide bandwidth, vertical and horizontal directivity control, and high efficiency in a compact, cost-effective package. Low frequency support is via eight X12i-128 subwoofers. Just six Dynacord IPX20:4 power amplifiers (4x 5kW) drive the X1i system.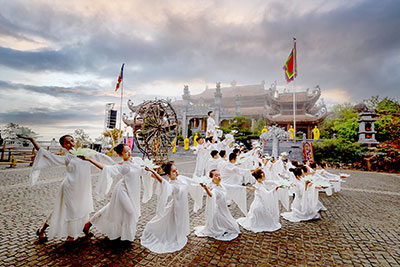 Six EVF 12-inch, two‑way full‑range models with a 90° x 60° rotatable waveguide supply close-field and medium-throw coverage, installed at the very top of the peak where the national flag of Vietnam is planted. Powered by a pair of Dynacord L3600FD (2x 1.8kW) amplifiers, the EVF models further elevate the vistor experience and support national ceremonies at the peak.
With the installation taking place at the top of the highest peak in the region, accessibility of the site and transport of the equipment provided obvious challenges. Thanks to the Guinness world record-holding cable car that takes tourists up to the complex – and the dedication of the Truong Thinh team – the popular tourist attraction is now equipped with an audio solution that exceeds all expectations for is possible on top of a mountaintop – both in terms of sound quality and weather resistance, and has demonstrated the ability to withstand harsh environment conditions at Fansipan Peak.
'We are very pleased with the professional audio systems by Electro-Voice and Dynacord operated on Fansipan, even in extreme weather conditions and at a height of more than 3,100m,' says Phan Tat Thang, Vice President of Fansipan Sa Pa co Ltd. 'Furthermore, without valuable assistance from the enthusiastic and experienced team of Truong Thinh Sound – Light Equipment JSC, the project would have not been completed to this high standard.'