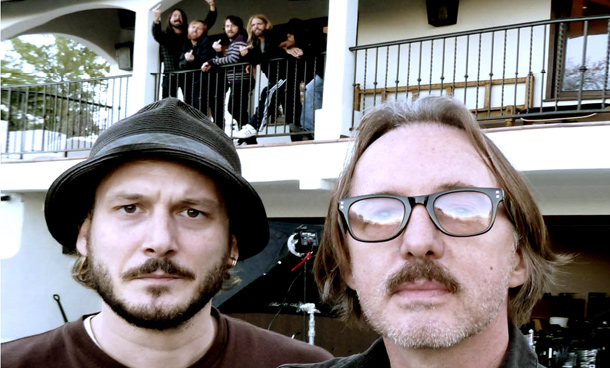 In at No.1 on the US Billboard 200 chart last month, the Foo Fighters' Wasting Light album sold more than 235,000 copies in its first week. It was recorded and mixed completely on console in frontman Dave Grohl's untreated garage and spare room… and it's all analogue.
Although a number consoles would have met Grohl's space and input requirements, it was an API 1608 and its 16-channel expander that got the gig. 'The API sound is great for rock,' says Wasting Light producer, Butch Vig. 'It's not subtle and it's not soft. When you turn the gain up on an EQ, you can really hear it. It's musical. We drove the 1608 and colored the album with the pleasing sound of its subtle distortion.'
After the group decided on the recording desk, album engineer James Brown requested that the console's 500-series expansion slots be filled with 16 API 550A three-band EQs, eight API 500B four-band EQs and eight 560 graphic EQs. 'I've always loved the API sound,' sya Brown. 'I grew up as an engineer on a pair of API consoles back at RAK Studios in England. The sound is very open and musical. Heading into the project, I was glad to have the API sound as a known quantity. Also, I knew it would withstand the heavy workload day in and day out.'
Vig and Brown say that Grohl deliberately avoided any digital recording, mixing or mastering not only for sound quality – but to avoid the urge to 'tweak and shift and polish', and to no longer rely on editing to fix any less-than-great takes, which meant a revival of the all-tape-based production techniques the Foo Fighters had used in its early years. They described their recording process as 'challenging, yet inspiring'.
Although the original plan was to mix the final recordings on an automated console at a large studio, the band had become accustomed to the lively mixes Brown was getting on the 1608 during tracking. 'After four or five mixes on the other console, Dave said, "yeah, these mixes sound good, but they don't sound like the garage anymore",' says Vig. 'So we left the commercial studio behind and returned to the garage and our API 1608.'
'The 1608 had a way of gelling the mixes,' adds Brown. 'I can't exactly put my finger on why or how, but the reality of it was pretty undeniable. Again, it might come back to the way we ran the board hot and captured some nice, harmonic distortion.'
'A project like this reinforces why API continues to do what we do,' API President, Larry Droppa, offers. 'To be acknowledged for having even a small part in drawing out the creativity of musicians and engineers on such a successful album, gives everyone at API immense personal satisfaction.'
More: www.apiaudio.com