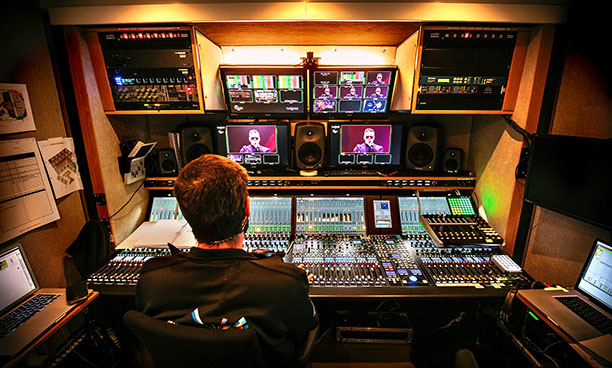 The EBU's Eurovision Song Contest 2021 (ESC) in Rotterdam promises to be a grand event despite social distancing regulations. Although usually a single, shared by millions of television viewers in Europe and beyond, this year kicked off with a Turquoise Carpet event, where the semi-finalists were introduced Cannes-style.
The 'be open, be positive' slogan used by Rotterdam Mayor Ahmed Aboutaleb, was taken to heart by host broadcasters NPO, NOS and Avrotross, as well as OB companies NEP and United (EMG), which covered the event.
To ensure high-quality and reliable sound, NEP equipped its twin UHD1 and UHD2 OB trucks with 64-fader Lawo mc²56 consoles, Nova router cores and VSM for intuitive control of the broadcast chain. The two OBs set up as main and backup for seamless protection switching.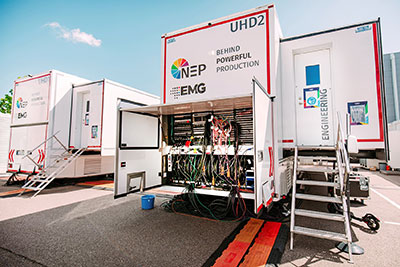 Two additional 48-fader mc²56 consoles, along with monitoring equipment and outboard gear provided by Lawo Rental, are stationed in a separate Music Room where music producer Tijmen Zinkhaan will mix all delegation and interval acts. While all broadcast audio connections are streamed via Ravenna/AES67, the audio feeds for the PA at the Ahoy venue are provided by Dante cards inside the Nova routing cores.
The selection of Lawo equipment was a conscious choice by ESC 2021's Head of Sound, Thijs Peters: 'There was never any doubt that Lawo consoles were the perfect match for this prestigious assignment. They sound great, their routing capabilities are infinite, our setup integrates seamlessly and can be conveniently and intuitively controlled via Lawo's VSM broadcast control system.'
This all-star lineup will make it easier for broadcast mix engineer Andre Swart, FX engineer Marcel Korfage and music producer Tijmen Zinkhaan to provide a sonic foundation that will allow all finalists to shine at the Grand Final on 22 May.
More: www.lawo.com