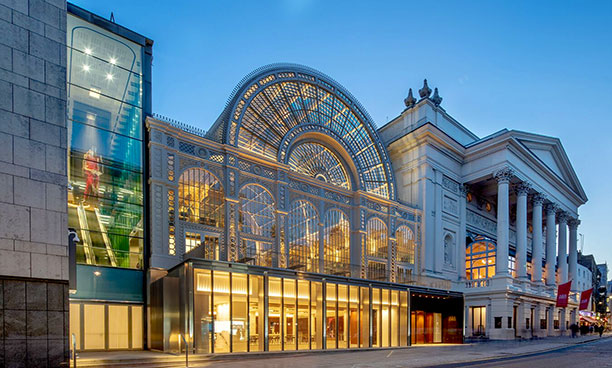 Among the best-respected opera houses in the world, London's Royal Opera House (ROH) is home to both The Royal Opera and The Royal Ballet. Its Open Up project is a £50m refurbishment venture to make the venue more welcoming, with new cafes, restaurants, shop and a refashioned Linbury Theatre, which presents chamber work for opera and dance as well as live orchestral performances. The ROH also has a thriving immersive live to cinema department, and a broadcast team.
To make workflow as flexible as possible, Martin Adams, and the in-house technical team have upgraded the space, placing an SSL L500 Plus mixing console and Dante AoIP at its heart, with an EM Acoustics PA.
From the initial audio makeover discussions for the Linbury Theatre, the idea of a Dante solution really appealed to Martin Adams and his team, and that got them thinking about which console to opt for: 'The fact that a Dante infrastructure is built directly into the SSL L500 Plus was very interesting to us,' Adams explains. 'It's the AoIP that you want – first, not to intrude on how you work; and second, once you have done an initial set-up, you've kind of done the work, and everything else becomes easier.
'This also means making the system larger becomes very simple in the future. If you're in a rush – as we are, because we're working on really quick turnovers – people expect things here and now. One of Dante's joys is that it's based on a theory that audio is a plug and play thing; if you step back to analogue world, when you plug a stagebox in, you plug a stagebox in, and that's how you want it to operate.'
Adams says one of the great things about having the L500 Plus is that because it's great from a compositional perspective: 'Audio for us in the ROH is not a form of amplification, it's a compositional tool. A composer comes in and looks at the audio system exactly like that and that sets us apart from how people use audio in theatrical spaces; the console becomes part of the artistic input of the show.'
Another reason he wanted to go with an SSL system was the quality of audio: 'At this level, the sonics are very, very important, and when listening to the L500 Plus against other devices, there was simply no contest,' he insists. 'We had already looked at the usability of the system, and how well it operated with Dante – that was a real positive – but when you actually listen to it – well, we were entirely sold.'
The shows in the Linbury Theatre are quite varied – they might run two-channel playback with Q-Lab on one day and have a 20-piece orchestra to contend with the next, often with a 60-piece virtual orchestra behind it. This is where the L500's stem architecture comes in particularly handy.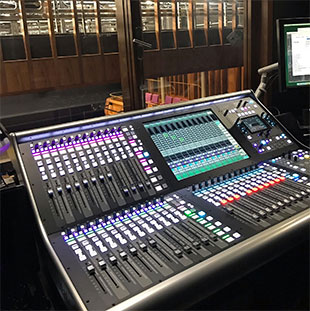 'We really love that about the SSL – we operate it when we do high-channel-count shows. Controlling 100-plus inputs can quickly become confusing, but using the stem architecture, you can break down an orchestra very nicely, and very simply, in a live environment. Before, we'd have matrixes going all over the place, but working this way frees you up to send your string section down to a fader, and you can fold that in and out as you want. It feels like you're in a studio! The sound we are getting is just phenomenal, so live orchestra mixing into this space via a multitrack sounds incredible. The audience members come up and tell us how good it sounds – in fact, they even do that after our live to cinema shows.'
The Royal Opera House live to cinema department has been running for yen years, and is thriving; the L500 Plus is lending more than a helping hand in this area, too.
'It's all pre-mixed, and we do a lot of live streaming – so the stem architecture helps massively there,' Adams says. 'Currently, we mix it down to 60 amplifier outputs going to various areas within the space. We have 200-plus speakers, including the delays and surrounds, so having the stems, and the flexibility in the desk to sub-mix across the whole theatre, has been great. And because of the way the SSL works, it means every production we do, we can record to multitrack, and send to our broadcast suite; again, the SSL is part of all of our thinking from that perspective, as it lends itself to doing it so simply.
'We have 256 flows, and then 32 from the desk, as well; and they are constantly shared with the broadcast department,' he continues. 'Because we have Dante, our broadcast side subscribes when it wants to, and because the SSL is set up to share channels, the desk never sees it. It just happens in the background. That is brilliant. Having something so feature-rich that aids us, and makes those things so straightforward, is so good. It has all the functionality and flexibility in such a user-friendly package.'
As the L500 Plus has made such an impact, Adams is very keen to expand the system further: 'We are already looking to buy the smaller SSL L100 console to use as a remote surface, because we have many shows coming up with live orchestra mixing, and although we'd like to be able to do all the production with the larger console in the auditorium – we don't want to lose many seats.'
A new infrastructure
Dante media networking has replaced previously analogue-reliant audio infrastructure as a major part of the renovation. 'We realised Dante would be the right technology for us when we saw how many manufacturers in the industry were using Dante for their own solutions,' says Adams. 'Hundreds of manufacturers offer Dante-enabled products, and if the manufacturers are embracing it, we understood clearly that the market was embracing it.'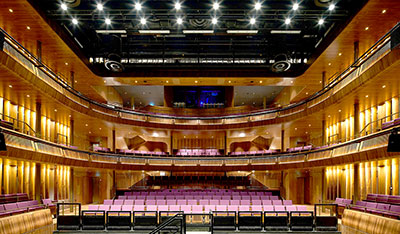 'With this project, we needed to plan ahead for two, three or four years from now,' adds Linbury Theatre Technical Manager Tom Thompson. 'We decided quickly that Audio-over-IP was the right way to go from an installation and usability perspective, and that the Dante solution would be easy for us to work with, even though we're coming from an analogue background with really no experience in AoIP or networking.'
Installing and integrating Dante was made straightforward with the use of Dante Controller. 'Our implementation of Dante actually was as simple as turning the first device on,' Adams confirms. 'After powering up and opening Dante Controller, everything on the network was just there.'
Dante Controller software gives operators an informative overview of the system, providing more control of the theatre's audio than ever before. Adams and Thompson can now look at all aspects of the audio signal chain, and understand everything that is happening to it. Dante Controller delivers all information on the system as it currently stands and presents potential problems, helping productions run as smoothly as possible.
'With a Dante system, you have direct control, and you know where any fault is straightaway,' said Adams. 'So, if there is a device on your network experiencing a problem, Dante Controller will alert you. IP systems help us find problems a lot quicker than an analogue environment.'
Whether recording, streaming or doing live replays of compositions, Dante and Dante Virtual Soundcard (DVS) have introduced the theatre to a world of scalability and unprecedented flexibility, allowing composers to integrate different equipment or personal computers into the system.
'Composers don't like having restrictions put upon them, and with Dante, we can expand and contract the system as needed,' said Adams. 'We can now take a composer's PC and plug it straight into the system, and by using DVS, we can add that person's work into the system very, very simply and very, very quickly – we never had that kind of flexibility in the past.'
Dante has also drastically improved the theatre audio infrastructure by replacing long and expensive analogue cabling with standard Cat5/Cat6 Ethernet cables.
With the cost savings, flexibility, scalability and overall infrastructure improvements, the Linbury Theatre intends to continue to scale up its use of Dante audio network technologies. Currently, all audio equipment is Dante-enabled, and Adams and Thompson look to make sure all future equipment is Dante-enabled for simple integration.
Additionally, the team is now looking to deploy even more control features and to enhance network security with Dante Domain Manager. With such a large facility operating on multiple domains with so many visiting composers and performance groups, Dante Domain Manager proves to be a natural next step in its renovation and expansion.
Linbury FOH reinforcement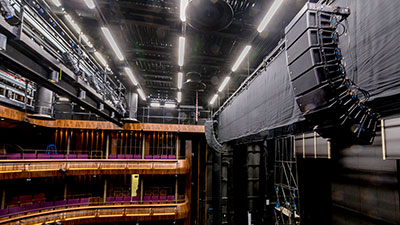 The choice of EM Acoustics for the full PA system was straightforward, as both Adams and Thompson have a long-standing relationship with EM and knew the Halo-C compact line array system well.
It was also important to them that EM Acoustics is a British brand. 'A flagship British institution should use flagship British products, so EM is also ideal from that point of view,' Thompson explains.
Thompson describes the new set-up with pride: 'It's a very flexible system that can be used in a number of ways, but the standard set-up is two hangs of eight Halo-C boxes left and right with a separate set of ground-stackable Halo-Cs at stage level with two pairs of EMS-118 subs – one at stage level and one up high'
'We've then got lots more boxes of different types around the space to fill in the little gaps underneath the circle overhangs and also to provide rear surround. They vary in size from EMS-41s and upwards depending on the use of the space. We also have a row of EMS-41s built into the front of the stage as front fill, as well as a number of free-standing EMS-81s for foldback or anything else we might need.'
'The best aspect of the system is simply how smooth it is,' Thompson continues. 'The way the PA responds to the space is fantastic.' He also had a special mention for the newest – and tiniest- addition to the EMS range, the award-winning EMS-41. 'The control they give us over the sound in the auditorium is excellent. We have them on just enough to pull the image into the right place, but you don't notice any difference between the EMS-41s and the main PA. It's seamless.'
'What's so impressive is the fact that although you have a LR stereo pair of hangs, there is no sense of separation,' adds theatre Head of Sound & Video, Nick Manning. 'It's a completely smooth sound that just fills entire space that speakers are firing at. You can walk from one side of auditorium to the other and there are no lumps or bumps, or areas where you're getting more of some frequencies than others, it's just completely flawless. Then when you combine those with the subs and all the other speakers around the space, it's as though the whole system has come from the same DNA – it's amazing.'
A total of 15 EM Acoustics DQ Series amplifiers are used to power the system which is networked via Dante.
Manning says that reactions to the new system have been overwhelmingly positive, including from Alex Beard, the Chief Executive of the Royal Opera House. 'His reaction was pretty direct – "It's great. It sounds great. And that's all I've got to say". You can't ask for more than that.'