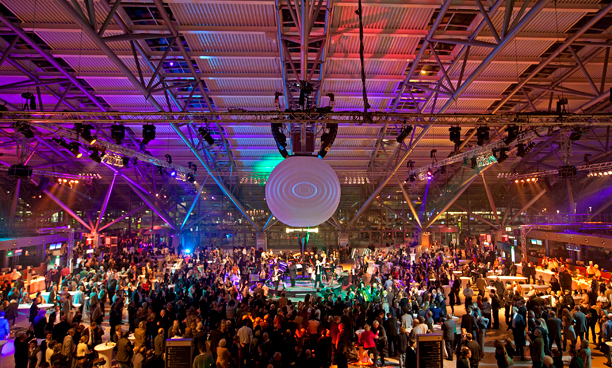 Marking the 100-year anniversary of its first flights, Germany's Hamburg Airport celebrated by hosting live music and presentations on five stages. Carrying the festivities to 3,500 attendees were Meyer Sound systems, highlighting the new Mina line array loudspeaker provided by Blue Noise of Hamburg.
The event featured a 30-minute presentation on airport history, along with performances by artists drawn from the airport's far-flung destinations. It was held in the airport's cavernous Terminal 1, where the combination of a highly reverberant space and simultaneous programmes on multiple stages presented an extraordinary challenge...
'The terminal is made of metal, glass, and marble, so we had to avoid sending sound towards these surfaces,' says Blue Noise Managing Director, Hendrik Rogel. 'The precise and consistent coverage of Meyer Sound's UltraSeries loudspeakers and Milo family line arrays helped us to fulfill this demand flawlessly.'
The main system for the large central stage comprised 24 M'elodie line array loudspeakers in four arrays, while the four smaller satellite stages each used six of the newest (and smallest) member of the Milo family, the Mina line array loudspeaker. This new addition to the line quickly earned praise from Sandro Frei, head of sound at Blue Noise. 'Being early adopters, we've been working with Mina since October and we love the transparency and clarity,' says Frei. 'I was especially impressed by the high gain before feedback. Also, the size fits into the stage designs for smaller industry events, but without loss of the directivity that you normally get only with larger systems.'
The complete Meyer Sound complement also included bass support from four each 700-HP and 500-HP subwoofers as well as 18 UPA-1P, four UPJ-1P VariO, and four UPJunior VariO loudspeakers. Four UM-1P stage monitors supplied foldback, and a Galileo loudspeaker management system with two Galileo 616 processors provided system drive.
A Meyer Sound user since 1994, Blue Noise places a strong emphasis on both state-of-the-art equipment and a highly trained staff, and is a partner of Das Institut für Angewandte Medien (The Institute for Applied Media) in Hamburg, a widely recognized educationfacility for event technology. Blue Noise was also among the first companies to earn DPVT certification (formerly VPLT SR 6.0)
More: www.meyersound.com