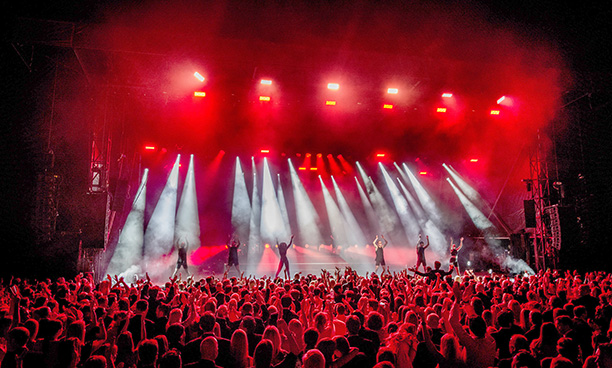 Among the highlights of the UK summer season, the five-day Henley Festival is a 'black tie' event with RG Jones Sound Engineering having provided isoundfor 36 years. In recent times, the company has fine-tuned coverage of the main stages – including the tricky Floating Stage – using Martin Audio MLA components.
'The Floating Stage has always been a challenge in that the front to back of the arena is only approximately 30m, but it is extremely wide, and with the introduction of general admission tickets outside the arena we are being asked to cover a width of something like 100m,' says festival Technical Manager and Head of Sound, Jim Lambert. 'The MLA Compacts more than rise to this challenge and yet enable us to keep to the fairly strict off-site noise limits set by the Council.'
It again provided the perfect setting for main stage headliners Rita Ora, Chic (featuring Nile Rodgers), Grace Jones, Curtis Stigers and ENO, particularly since the highly experienced sound team of Steve Carr and Mark Edwards, both of whom have an advanced knowledge of MLA, were on hand to supervise the main stage.
Having refined the system last year, RG Jones further fine-tuned the PA this year, adding the powerful Martin Audio DD12s as arena delays in the grandstand to replace the previously used DD6s. Production also used MLA Mini for in fill, and decided to retain the same curved MLX sub bass arrangement that they had introduced in 2017.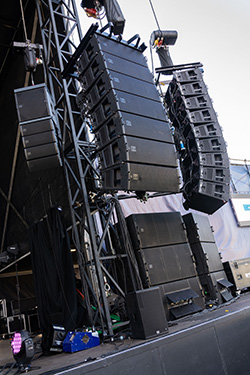 'This produced a much smoother response in the far reaches of the main stage arena,' Lambert reports.
'It also enabled us to achieve more even coverage of the tricky grandstand whose roof partially shadows the audience from the main stage arrays,' adds Head of Department, Jack Bowcher.
Set opposite a residential area in the picturesque town of Henley-on-Thames, the arena levels need to be held at a respectable level. 'This helps us achieve the offsite limit with a large amount of headroom,' continues Lambert. 'Having said that, with a bit of careful tuning of the system we were still quite easily able to achieve front of house levels that you would expect indoors.'
In addition to the Floating Stage, where MLA Compact was not only used for main PA hangs but also out fill, along with the MLA Minis for in fill, MLA Minis were also used in the Bedouin Tent and Jazz Garden – two of the other three stages equipped by RG Jones – the only onsite sound contractor for the festival.
MLA Compact certainly proved a popular choice with visiting sound engineers, many of whom were experiencing the system for the first time. According to Bowcher, all returned a positive response and all reported an enjoyable time using the system. 'Some were initially sceptical about achieving the levels they normally mixed at but once they heard what the system was capable of, they were all extremely surprised and happy,' he says.
In conclusion, both Lambert and Bowcher acknowledge that with an exceptionally tight production schedule, the ability to fly a system quickly and efficiently which will achieve exactly what is required out of the box is vital. 'MLA gives us the time we need to focus on other things as they crop up without needing to spend huge amounts of time tuning the PA,' they say,
'It is always a pleasure working with RG Jones,' summarises Lambert. 'The sound team onsite consistently goes the extra mile and is considered a large part of the Festival family.'
'I've been working with RG Jones for many years now and it's always a relief to see the name on the sheet,' says Touring Production Manager for Rita Ora, Daria Dee. 'The people behind this company are very passionate about what they do – they are a family run independent business and it really distinguishes them. I've been to Henley Festival as a guest and it's a truly unique event. Working on it this year was equally fun and refreshing; the festival team are as wonderful as they are professional, and our crew were well looked after. Rita had the crowd jumping and the sound system sounded incredible – a floating fairy-tale on the water.'