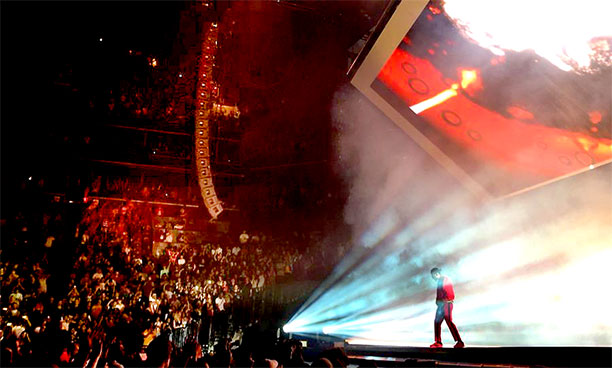 Among the most anticipated of 2017's arena tours, Kendrick Lamar is out in support of his double-platinum Damn album, visiting cities in the US, Canada and Mexico. FOH Engineer Kyle Hamilton specified a complete Vue sound reinforcement system for all dates, which was supplied by Sound Image.
Debuting to a packed house at the Gila River Arena near Phoenix, the system comprises 20-element hangs of Vue al-12 line array elements at LR, with two auxiliary side-hangs of eight elements each. Thirty-six VueDrive V3 Systems Engines provide power and processing for the arrays, with a DiGiCo SD7 for the FOH mix where a pair of Vue h-12s serve as monitors.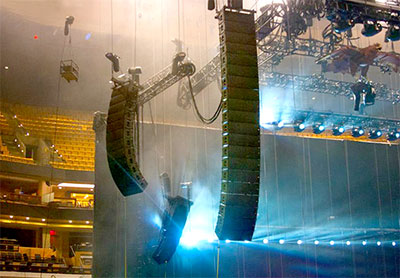 'I've been working with the smaller Vue h-Class systems for about two years,' Hamilton says. 'I love their consistent voice and the fidelity of the beryllium high frequency.
'When I heard Vue was launching a full-sized line array with their beryllium drivers, I was anxious to find out if the voicing carried over from the h-12s, and if it would have the horsepower for a full-scale arena-sized tour.'
Vue provided Hamilton with an opportunity to audition the al-12 array at a special demo, when he spent nearly six hours pushing the system to the extreme – often pushing up to 10dB past his maximum requirements. Everything from fidelity to sheer output was thoroughly evaluated.
'The accuracy was the first thing I noticed,' he reports. 'I put up a session that I knew needed some work in one particular area. Right out of the gate I heard it. I've never had that happen with a PA at the scale of the al-12. And output was equally impressive. Whatever level I wanted I got, and with room to spare.'
'If the technology meets our standards, we are always happy to provide what our clients ask us for,' says Sound Image President and CEO, David Shadoan. 'The Vue system is exceptionally engineered and it sounds phenomenal, so it made for an easy decision.'
After two weeks on the road, Hamilton feels vindicated in his decision: 'Everyone is really pleased with the system. The fidelity of the al-12 is simply amazing. With every mix I've done, when I play it back in my car or on one of my better reference systems, it translates absolutely perfectly.'
For low-frequency support, Sound Image provided 32 Vue hs-221 dual 21-inch ACM subwoofers, configured in LR arrays of 16 cabinets each, located on either side of the centre stage thrust. Onboard VueDrive electronics provide all power and processing for the subwoofer arrays.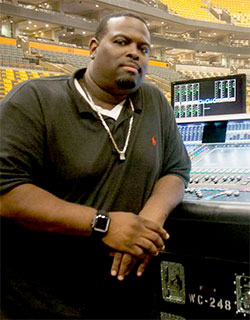 'The subs are just crushing it,' Hamilton says. 'I've actually had to turn them down on because they were literally making it hard to breathe. I've never had a sub go so low and so loud. Vue is really on to something with these ACM subs.'
The all-Vue PA is complete with a full monitoring system that includes left and right side fills of four al-12 elements and two al-12SB subwoofers each. Every musician also receives an hs-28 ACM subwoofer for added bass and drums. Vue hm-212 dual 12-inch stage wedges are on the downstage lip, on top of the subs for when a surprise guest appears. VueDrive Systems Engines provide power and processing, while a second DiGiCo SD7 handles the monitor mix.
'The Vue monitors bring a welcome degree of versatility and impact to the stage,' says monitor engineer, Chris Lee. 'The Vue system delivers the full physical impact of the mix while offering a second high-fidelity option that matches perfectly with the main PA. In a way, they're more connected to the audience experience thanks to Vue's on-stage system.'
'I knew Mike Adams and the Vue team were doing something very special when I first turned on those h-8s and realised what the beryllium could do. I've been a solid believer ever since. I'm really excited to show the world the al-12 line array,' Hamilton says. 'It's a game changer.'