The iAM-Video multichannel audio and video monitoring and metering device is the latest addition to Wohler Technologies' iAM Series, joining the recently-released iAM-MIX multichannel audio monitor and mixer, and the iAM-Audio audio monitor.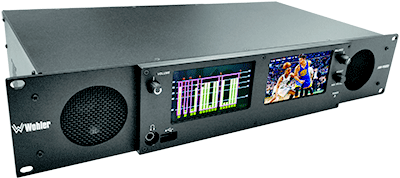 iAM-Video adds extensive video monitoring to the facilities found on the iAM-Audio. It not only can display video on a front panel touchscreen, but the range of sources extends beyong 3G-SDI to monitor MPEG-IP, MPEG-ASI, Quad-Link UHD/4K, SMPTE 2022 and 12G-SDI video.
The variety of audio and video metering options supported includes analogue, AES3 and Madi inputs, with options for VoIP formats including MPEG2/4 TS and SMPTE 2022, AoIP formats including Dante, Ravenna and AES67, 3G/HD/SD-SDI and a growing range of additional I/O options via an SFP interface. With both front mounting speakers and subwoofers, the iAM-Video provides powerful sound output and audio reproduction that adheres to Wohler's own strict specifications.
Similar to the recently launched iAM-Mix and iAM-Audio rack-mounted monitors, the iAM-Video is available in 1U and 2U form factors, and is built with an onboard web server. Multiple units on the same network can be updated, monitored and controlled via a browser-based user interface that supports fast configuration with role-based authentication that protects critical configurations from unauthorised alteration. The high quality touchscreen panels allow for elegant and intuitive control, with simple to navigate menus and configuration. The browser-based GUI complements Wohler's traditional front-panel monitoring interface for remote control, and opens up future options for remote monitoring, and logging.
iAM-Video, like all iAM Series products, can be controlled by third-party software via an application program interface (API). The use of SFPs enables simple, in situ adaptation of interfaces and a wide selection of signal I/O. This, in combination with other software-defined features, creates a smooth upgrade path to new and emerging protocols and ensures that users have the best available and most relevant features through regular updates and licensable options.