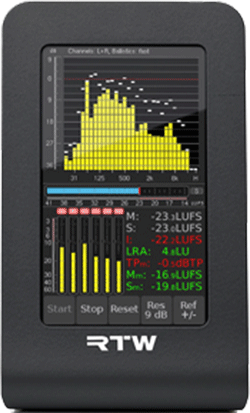 RTW has released the MM3 MusicMeter, allowing loudness metering to be incorporated into music-based applications with flexibility and ease.
The MM3 MusicMeter features vectorscope, PPM/TruePeak or vu, real-time analysers, Loudness vs Time charts, along with numerical and graphical loudness display and zoom modes – all accessible with a simple swipe of the screen. With the ability to view the display in both vertical and horizontal modes, the MM3 MusicMeter can fit into any workflow. In addition to the available features, the MM3 supports audio inputs including analogue, SPDIF and USB, while an SPDIF output delivers a buffered stereo signal or downmix from a 5.1-channel stream.
The MM3 MusicMeter is compatible with the company's well-known USB Connect software package, which is available at no cost from the company's website. The USB Connect software equips its user with a direct audio signal transfer and additional control from within a DAW environment, further expanding the capabilities of the MM3.
'RTW has typically been reserved for the broadcast and production market, but we are now breaking that tradition with this introduction to the music market,' says, RTW CEO, Andreas Tweitmann. 'This new audio solution is available at an affordable price for everyone in the industry, and gives the opportunity for sound engineers and mixers to implement loudness metering into their music-based workflows and applications.'
The RTW MM3 MusicMeter is currently shipping through a limited number of exclusive partners and online at RTW's worldwide webshop.
More: www.rtw.com