Wireless audio specialist RF Venue has released Vantage, a native Mac OS-X spectrum analysis and frequency monitoring application for use with RF Explorer portable spectrum analysers, as well as RF Venue's rack-based RF Explorer RackPro. The software is the first professional third-party RF Explorer interface and coordination program exclusively for the Macintosh OS-X environment.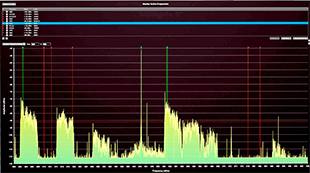 'For years, RF Explorer spectrum analysers have been cost-effective, accurate analysis tools used by countless audio professionals and radio enthusiasts,' says RF Venue CEO, Chris Regan. 'They allow visualisation of the radio spectrum at a superb price, and connecting them to a computer through USB lets you do some very powerful things.
'Vantage will enable even the most novice wireless operators to visualise, monitor, and manage their facility's RF systems without any steep learning curve.'
Vantage comprises three core features – spectrum scanning, frequency monitoring, and CSV file exports of scan data. Users can manipulate scan range and monitor frequencies on the fly, and run Vantage uninterrupted in the background while using other programs simultaneously.
The export feature generates CSV files compatible with Shure Wireless Workbench (WWB) and Professional Wireless Systems' Intermodulation Analysis System (IAS), so audio professionals can improve their existing coordination workflows in WWB and IAS by augmenting them with wideband scan data from an RF Explorer in any frequency range.
Vantage is compatible with the entire range of RF Explorer models. Depending on which RF Explorer is connected, Vantage can scan frequencies as low as 15MHz, to as high as 6.1 GHz – filling a critical need for wideband scanning of the entire UHF broadcast band (470-698MHz), as well as wireless systems operating in VHF, 900MHz, and 2.4GHz.
Vantage is available to try for free for 14 days directly from RF Venue, and priced at US$99 per licence.
More: www.rfvenue.com/vantage