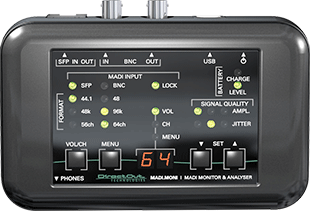 Madi specialist DirectOut has announced the Madi.Moni tester and mobile Madi monitoring tool for testing and monitoring in the field.
Claiming the smallest footprint of any mobile Madi monitor on the market, Madi.Moni offers a simple, uncluttered interface enabling users to see at a glance all format parameters as well as the signal quality of a Madi stream. Operation is via four pushbuttons, including a volume/channel selection to monitor individual channels of a Madi signal via the 3.5mm headphone jack.
The device is battery powered and provides one coaxial and one SFP Madi port. A trafficlight-like display delivers immediate information about the physical signal condition (amplitude/jitter). The state of the incoming Madi signal is displayed with dedicated LEDs for each parameter (sample rate, frame mode, channel format).

UK availability is via Aspen Media.