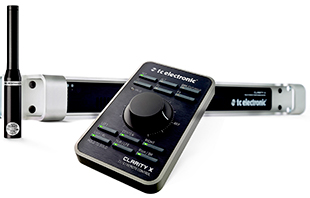 TC Electronic has introduced Clarity X, offering dedicated metering and calibration tools to assist audio engineers in mixing for optimal balance, spectrum and increased intelligibility of final productions.
Clarity X is a combination of innovative and advanced tools – the first step is to properly calibrate the monitors using the included measurement microphone, so that the reference SPL is consistent when mixing.

A suite of metering tools includes a loudness-based Stereo Deviation Meter that reflects how well a surround mix will translate into stereo; a new Center Ratio meter displaying the balance between the centre channel (dialogue) and the other channels in a surround mix; the new LM8 Loudness Radar Meter with 7.1 surround support; true-peak meter; SPL meter and dose meter.
Any monitor with digital or analogue inputs can be connected to Clarity X. As default, Clarity X comes with AES inputs and outputs, but can be expanded with Madi. For instance, it is possible to connect a 5.1 or 7.1 surround monitors as well as two or more different stereo pairs – or two complete 5.1 or 7.1 sets without expanding with Madi. For surround set-ups, Clarity X offers full bass management control and solo/mute functionality for each speaker in the system.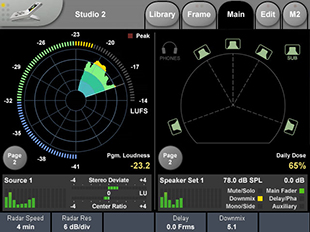 TC Electronic's Radar Loudness Meter has been upgraded for Clarity X and now offers full 7.1 surround support. Like its predecessors, LM8 features the innovative loudness radar that shows short-term (S) loudness over time, two user-definable parameters – such as Program Loudness (I) and Loudness Range (LRA) – and a full true-peak meter. LM8 also has a detailed statistics page with information for further evaluation and documentation if required.
Clarity X comes with a small-footprint remote control that offers hands-on control of the most important monitor control functions as well as a row of user-definable function keys that can be programmed to suit any workflow.
More: www.tcelectronic.com