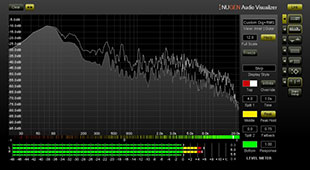 Nugen Audio has released a 'significant' update to its Visualizer audio analysis suite, adding support for Avid's AAX 64-bit format for both PC and Mac, as well as the VST3 standard for digital audio plug-ins.
Visualizer provides audio analysis for recording, mixing and mastering through a reference tools. With the latest upgrade, Visualizer is among the first to gain compatibility with Avid Pro Tools 11.
For recording, Visualizer offers tools for calibration, setting levels, signal path checking, noise minimisation, and many other audio tasks. At the mixing desk, engineers can use Visualizer for tasks such as low-end control, masking, hidden frequencies, and stereo placement, among many others. For mastering, Visualizer supports a wide range of views such as stereo spread, phase relationships, and EQ distribution.
'When we launched Visualizer in 2005, it quickly gained the attention of producers and helped Nugen Audio build its brand in the audio production industry,' says Creative Director, Jon Schorah. 'The new update is the latest example of how we're continually adapting our products to meet our customers' evolving requirements; for instance, 64-bit AAX compatibility provides future-proofing for our many customers who rely on Avid's editing software.'
More: www.nugenaudio.com