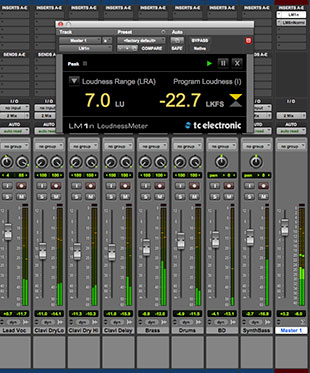 TC Electronic's native loudness meter family has been extended with the release of LM1n – 'a no-nonsense, easy-to-use solution for those who have found that they sometimes need to deliver content that complies with a certain broadcast standard'.
Using the same algorithm as the company'sLM2n and LM6n, the LM1n measures loudness and displays Program Loudness (I) and either Loudness Range (LRA), Max Momentary Loudness (M), Max Short Term Loudness (S) or Sliding Loudness (10 Sec), as well as True-Peak clipping. It is supported by all major plug-in formats – including AAX (Pro Tools 10 and 11), VST (Nuendo, Cubase, Audition, Premiere) and Audio Units (Final Cut Pro, Logic Pro) and offers faster than real-time off-line measuring in Pro Tools – and complies with all major broadcast standards, including BS.1770, A/85, R128, TR-B32 and OP-59, and will remain compliant via updates whenever new revisions of are released.
For large broadcast stations or production facilities, TC Electronic offers the LM1n (and also its LM2n and LM6n plug-ins) in a 'bulk version' that allows installation of a large number of installation on Mac and PC, withour need for iLok USB keys or licences on individual computers.
More: www.tc-now.com