The RTW Masterclass PlugIns range offers the company's metering tools as plug-ins for Windows and Mac OS-X platforms. The RTW Loudness Tools will be the first plug-in in the new range.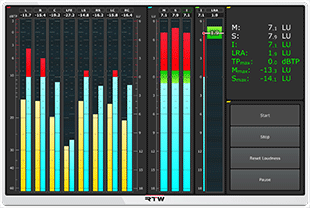 The Loudness Tools Masterclass PlugIn visually represents audio with relevant level and loudness values as specified by international standards. It conforms to the EBU R128 loudness standard, as well as SPL, ITU-R BS.1770-3/1771-1, ATSC A/85, ARIB and custom (to set OP-59, AGCOM) – aiming it at audio and video engineers, radio producers and musicians. It is also intended for quality control.
The plug-in supports all standard sampling rates up to 96kHz, and operates in mono, stereo and surround (eight channels maximum). It includes RTW's Peak Program Meter, TruePeak and Spot Correlator instruments, and also offers all common loudness formats plus MagicLRA and an SPL view.
The user interface is based on the RTW TouchMonitor TM7 and TM9 units, and offers the same functionality and clarity as the hardware models. The instruments provide graphical/numerical, as well as bargraph views, and can be freely rearranged and scaled. Various function parameters, such as integration time, operational range and tolerance, along with a number of viewing options for metering data and scales, offer extra flexibility. The plug-in window dimensions can be set to the native resolution of RTW TouchMonitor display screens, including 480x272, 800x480, 1024x800 (landscape) or 272x480, 480x800, 800x1024 (portrait). Users can store set-ups and layouts as presets in a DAW.
The software requires Windows 7/8 (32-bit or 64-bit) or Mac OS-X 10.6 or higher. RTW will first make them available in the VST 2.4 format for Windows systems and the RTAS format for Mac OS-X. VST, RTAS and native AAX64 support on the two platforms will follow. PACE anti-piracy and iLok USB copy-protection dongle are used for handling license management and plug-in activation. On an authorised computer, users can use unlimited RTW Loudness Tools instances.
More: www.rtw.de