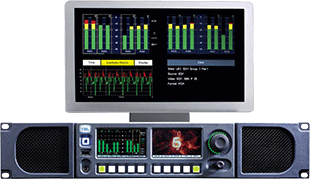 TSL Products has announced the Pam1 and Pam2 AVB Audio Monitoring Units, offering the company's Pam audio monitoring for an Audio-over-IP AVB facility infrastructure.
'Designed for a major US broadcaster moving into an Audio Video Bridging infrastructure, the addition of AVB compatibility to the Pam range provides operators in key production positions with a complete monitoring/loudness compliance solution that supports AVB Audio-over-IP, along with existing SDI, AES and analogue audio formats,' says TSL Products Head of Audio, Martin Dyster.
'Audio-over-IP technology is a highly-efficient and low-cost alternative to Madi, AES and analogue, using inexpensive Ethernet cable and connectors with dedicated switches across a broadcast LAN. Incorporating the full range of features that qualifies Pam as the go-to monitor for hundreds of broadcasters worldwide, the Pam1 AVB and Pam2 AVB units can be used extensively within production, QC, ingest, master control, postproduction and playout environments, as well as supporting functions such as engineering and technical support.'
The Pam AVB models are currently designed for use a hybrid environment, where multichannel audio connectivity linking router, console and comms is handled via an AVB network. SDI is still used for transporting embedded audio associated with HD video. The units offer extensive audio confidence/loudness compliance monitoring with features including dual OLED/LCD, video monitoring screen and 16 bargraph-type meters. Units display data, metadata and loudness information. In addition to AVB I/O, each unit offers two HD/SDI, four AES and two analogue pair inputs, with outputs including line level (fixed/variable), AES (fixed/variable), reclocked HD/SDI, composite video, downconverted video, headphone and integral loudspeakers. Both models also feature an external SDI monitor output used to display critical visual monitoring elements on external devices.
'We see a bright future for Audio-over-IP in the AVB open standard,' says Dyster.
More: www.tslproducts.com