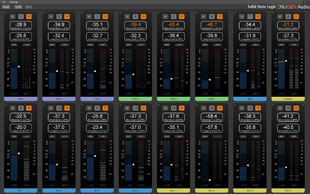 Nugen Audio has released MultiMonitor, a loudness and true-peak monitoring software application offering up to 16 individual loudness and true-peak meters in mono, stereo and 5.1 formats for up to 96 individual audio channels.
'MultiMonitor is the latest example of how we're supporting our customers by making compliance more straightforward and efficient, which makes it easier to measure programme levels without interfering with the creative process,' says Jon Schorah, Nugen Audio Creative Director. 'Using a visual metering tool such as MultiMonitor, audio engineers can keep an eye on the meter and loudness profile, while relying on their trained ears to make most of the mixing decisions.'
MultiMonitor is standalone software for Windows or OS-X that provides flexible, real-time monitoring in full compliance with the US CALM Act legislation, ITU-R BS. 1770/1, ATSC A/85, EBU R128, and other global loudness regulations and standards. Each MultiMonitor meter displays dedicated momentary, short-term and integrated programme loudness, alongside true-peak levels in a configurable environment that enables individual or group/subgroup operation as required. The multiple meter configurations allow numerous sources, groups and playout streams to be monitored simultaneously in any combination, and to individual specifications. In addition, MultiMonitor features short-term loudness-level alerts and colour-coded meter groups.
A custom version of MultiMonitor will also be included in LMS-16, a turnkey, PC-based system to be launched at IBC2013 by Solid State Logic.
In a strategic partnership with SSL, the console specialist is to preinstall MultiMonitor in a ruggedised 1U-high PC fitted with an SSL MadiXtreme 128 audio interface. An optional monitor arm is available to facilitate convenient side-mounting of a screen on SSL's C100 HDS or C10 HD consoles.
MultiMonitor is now available at a cost of US$2,000.
More: www.nugenaudio.com