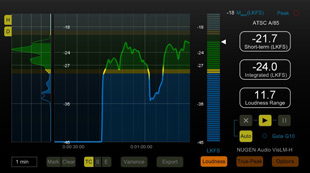 Nugen Audio has added a time code feature to its VisLM visual loudness monitoring plug-in, enabling it to relate loudness parameters directly to time-code references.
The new function provides frame-accurate position for any alerts, true-peak overs, maximum values, and other indicators to picture. VisLM now also includes support for 64-bit iLok protection for AAX, VST, and audio units.
'Sound editors have a long list of items to consider in the midst of the editing process, so anything that can accelerate that process makes the job much easier,, says Creative Director, Jon Schorah. 'With this new feature, the time code matches the NLE timeline for rapid location of specific points of interest, and users also have the option to write to the text file log for postmortem analysis. These capabilities greatly enhance convenience when referencing loudness to images in video content.'
When the time code setting is selected in VisLM, an indicator appears in the UI, and the time code information can be stored in the log along with other information. In addition to a report showing elapsed time or system time, there is now a time code report available. The report logs can be used to indicate where in a programme loudness events occur.
The time code update is free for all current users.
See also: