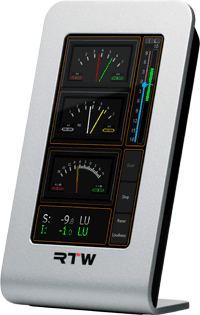 Audio meter specialist RTW has introduced moving coil emulation for its desktop TM3 3G, TM3-6CH and TM3 meters, offering 'a useful transition' from traditional hardware moving coil PPMs to new R128 loudness meter styles.
For many years in the UK, the hardware moving coil was the broadcast meter of choice as its rotational presentation meant that it could easily be read in the peripheral vision of the user. This benefit is now provided by the TM3 moving coil emulation as the angle of the indicator gives an accurate perception of level without having to read it in the true sense. The meters are configured as a dual movement with either left, right or mid, side and pairs of meters can be orientated horizontally or vertically. In addition to BBC or VU type meters the moving coil presentation is proving an unexpectedly popular method of displaying loudness levels.
The TM3 range combines an elegant design with a small footprint and is available for stereo, multichannel and 3G-SDI PPM and loudness metering including loudness range with RTW's proprietary MagicLRA. An optional metal mounting plate can be used for conveniently fitting the TM3 to a gooseneck or mic stand.
TM3s come with ten factory-set presets and further presets may be configured and stored on a PC or Mac using the complimentary Devicer software. They can be accessed on the device using a mobile phone style screen swipe.
UK supply of RTW equipment is handled by Aspen Media.
More:
www.aspen-media.com