Nugen Audio has released VisLM v1.6, adding Avid AAX format compatibility and a 64-bit OS-X version of its visual loudness monitoring plug-in.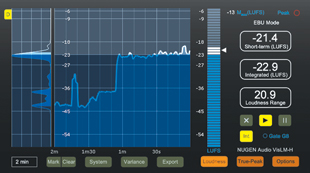 VisLM 1.6 adds a Dialog Gate option, which enables automatic measurement of dialogue sections within the source material. Measurements can now be written to automation tracks so that the loudness profile and true-peak clips can be seen against the waveform in the digital audio workstation timeline for diagnostic referencing. Also, the short-term sliding-window value is now adjustable.
Other enhancements include a simple Global Reset option and automatic start/stop/reset of the integrated program measurement following the transport bar. Maximum and minimum alerts settings are now available independently, and users can switch to the compact version from within the plug-in with a resixable interface.
With detailed, objective loudness measurement, history and logging facilities, VisLM offers an ITU, ATSC (Calm Act), and EBU standard-compliant way to measure, compare, and contrast loudness during production, broadcast, and postproduction, on the fly or for entire sections of audio.
Also supported are true-peak level metering (inter-sample accurate level measurement), loudness range (to help decide if and how much dynamic compression to apply), momentary 'instantaneous loudness' for mixing by ear, short-term loudness (3s time window), and programme loudness (long-term integrated loudness measurement).
'The availability of a plug-in that's compatible with both AAX and 64-bit OS-X means that our customers can continue editing as they always have, even as systems and technologies evolve,' says Nugen Audio Creative Director, Jon Schorah. ,VisLM 1.6 also has a number of other new features and usability improvements that our customers have been eagerly anticipating.'
The VisLM 1.6 plug-in is available now.
More: www.nugenaudio.com