AFMG has announced the release of v2.2 of its Ease Focus 2 sound system simulation tool.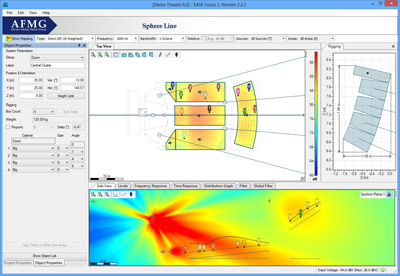 The latest update brings several features designed to make workflow easier and quicker, adding support for conventional 'box-type' loudspeakers in a mixed project together with line arrays. A maximum of 16 sound sources can be combined to a complex system, opening up modelling of front fill, side fill, under-balcony systems and delay lines in all possible combinations with the main systems.
SPL and frequency response can be examined and compared across all audience areas and 'Virtual EQ' settings can be simulated. The DLL concept allows manufacturers to provide all control options of their systems (including DSP settings) and users to pre-configure set-ups to become turnkey solutions for a production. Monitoring rigging loads and height limitations of a venue during simulation and the detailed reports generated by Ease Focus make installation and configuration on site easy and just as quick and precise as the simulation. Further manufacturers are currently supplying conventional loudspeaker data for Focus v2.2, including LAX, RCF and Renkus-Heinz.
Originally a design study for 2D line array simulation, Ease Focus 1 won the support of loudspeaker manufacturers – an independent, free tool for the prediction of sound radiation by line arrays proved so successful that demand urged AFMG to continue development. Ease Focus 2 added 3D simulation and support for multiple sound sources in one set-up. Also, Focus was no longer limited to line arrays. So-called 'configurable loudspeakers' (steerable column loudspeakers and other complex, configurable sources) were supported by the new DLL options. Focus 2 allowed the construction of complete venues with multiple audience areas, calculating sound dispersion from up to eight sources.
Contact:
This email address is being protected from spambots. You need JavaScript enabled to view it.