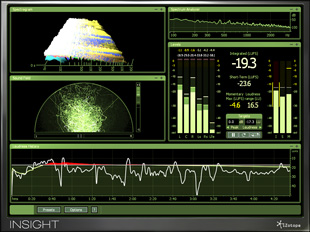 iZotope has announced its Insight metering suite for postproduction and broadcast applications.
Insight provides an extensive set of audio analysis and metering tools for visualising changes made during mixing and mastering, troubleshooting problematic mixes, and ensuring compliance with broadcast loudness standards. The display is fully customisable and scalable, allowing visual monitoring of all relevant information from mono, stereo or surround mix in a floating window.
Metering includes True Peak Meters, Loudness Meters, Loudness History Graph, Stereo Vectorscope, Surround Scope, 2D/3D Spectrogram and Spectrum Analyzer.
Key Features:
· Real-time visual monitoring and colour-coded alerts.
· Ensure audio compliance with loudness standards (inc BS.1770-1/2/3).
· Deep and flexible analysis with zoomable meters.
· Route audio from any tracks or buses to Insight.
· Custom metering view with window to fit workflow.
· Metering tools including in a single plug-in.
Insight is free to Ozone 5 Advanced owners.
More: www.izotope.com