Audix has announced the TM2 Integrated Acoustic Coupler for In-Ear Monitors (IEMs).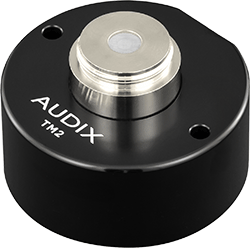 Monitor engineers are often faced with questions from performers regarding the functionality of their IEMs with no reliably consistent method to test them in their environment. Ear simulator 'couplers' are the measurement devices used by manufacturers of IEMs during research and development, final production and quality control of IEMs. Using proprietary technology, the TM2 incorporates the functionality of lab-type testing equipment into an integrated compact package, providing live sound and studio engineers with a simple, effective way to test IEM performance. Featuring precision-machined brass and aluminium components, the TM2 is built for the road and includes adapters to fit a wide range of IEMs including custom molds.
With the TM2 and readily available measurement software such as Rational Acoustic's Smaart or Studio Six Digital's Audio Tools, a monitor engineer can easily confirm the functionality of each performer's IEMs before the show. It is also intended for use in house of worship applications, where the TM2 can be used to check the performance of the IEMs of every member of the praise team on a regular basis.
'We saw a need for a tool that didn't really exist, and instead of waiting for one to come along, we just built it,' says Audix Director of US Sales, Steve Young. 'Along with our new line of studio headphones and two new large-diaphragm studio microphones, the A131 and A133, the TM2 is just another example of how innovation is alive and well at Audix.'
More: www.audixusa.com