Nixer Pro Audio's PD Dante is a portable Dante network diagnostics tool and audio monitoring unit, that allows the monitoring of up to 64 Dante channels at 48kHz (32 channels at 96kHz).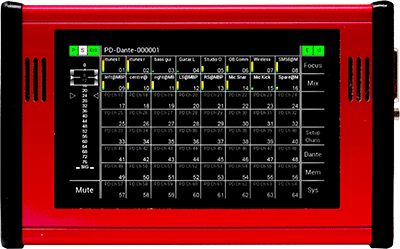 The signals are presented via the inbuilt speakers or the headphone jack. The speakers are automatically muted when a headphone jack is inserted. Simultaneous outputs are also available in the form of the stereo balanced line outputs and AES output accessed via the 15-way D-type. The speakers and headphones have independent settings for volume, the unit recalling the last used setting for each when changing between speakers and headphones.
The unit's balanced line outputs and AES output can be configured to follow the volume settings of the speakers or headphones. Alternatively, they can be set to independent levels with individual trim controls for each.
Additional inputs are available as an unbalanced stereo line input on a 3.5mm jack, AES input via the 15-way D-type connector and a mic input on the headphone connector (accommodating standard mobile phone headsets) All of these inputs can be routed to any of the Dante output channels.
The device is operated and controlled via the large 5-inch diagonal (127mm) 24-bit colour LCD and capacitive touchpanel. Its high-resolution screen is easy to read presenting comprehensive metering, routing and status information to the operator. The simple menu system is designed to be intuitive to navigate, allowing the user to access all the features of the PD Dante very quickly.
Firmware updates of the PD Dante are achieved via a dedicated USB microAB connector.
More: www.nixerproaudio.com